Step-by-step guide to renting a flat
Many people around the world are renting homes, which could be very costly if you don't know what to look for.  Here we provide you with tips on how to help you find the perfect and cheap place to rent in London without it costing you an arm and a leg.
First of all forget about the city centre and the London boroughs of Kensington and Knightsbridge as the rental prices there are from another world. The Chelsea area is also very expensive.
The cheapest flats to rent in London can be found in Acton, Anerley, Beckton, Catford, Charlton, Colliers Wood, Deptford, Enfield, Forest Hill, Holloway Road, Upper Holloway, Leyton, New Eltham, Nunhead, Perivale, Plaistow, Shepherd's Bush, Southgate, Enfield, Barnet, Sydenham, Tottenham, Wood Green or Haringey.
Renters insurance
Your landlord should have insurance for the flat in London you want to rent, but that only covers what is owned by them.  Your personal belongings do not fall under the landlords insurance.  If you want to make sure your property is insured in case of any disaster, then you will need to invest in renters insurance.
If it's only you and your family
Try and find the cheapest insurance that also has great coverage.  There are a few places available online to help you compare rates and coverages for these.
If you are sharing
Getting coverage for insurance from mainstream insurers can be a bit tricky if you share a place with other people.  Some insurers do have flat share insurance available, but not a lot of places provide the coverage.  If you do share a house, make sure you let your insurance company know because failing to do so can risk you losing your insurance coverage.
Check that your deposit is protected
Many renters are unsure if their deposit is protected; make sure you find out as soon as possible if you are unsure as well.  If you have an 'assured short hold tenancy' that was started on or after April 6, 2007, your landlord is required to put your deposit into one of these schemes within the 30 days of receiving it.  If your landlord does not protect your deposit, they can be ordered from the court to pay a penalty to you that may be up to three times your deposit, but this of course is rare.
If your deposit is in one of these schemes that mean
You will receive t your deposit back at the end of the tenancy if you've met the terms in the tenancy agreement.
If you and your landlord agree how much of your deposit is due, it should be returned to you within ten days after your flat for rent contract has expired..
If you and your landlord are not in agreement, a free dispute resolution service will be able to investigate and decide how much of the deposit should go back to you.
If you feel that your deposit is being withheld unfairly at the end of your rental, then it is very worth fighting for. 
Tricks to help make sure you get your deposit back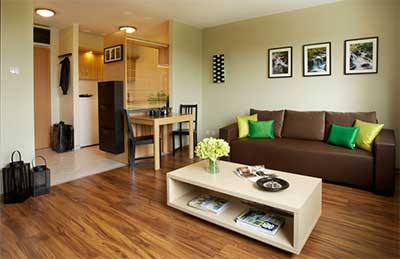 When it comes to checking the flat at the end of your stay, most landlords will be very thorough and try to find anything and everything wrong.  Here are a few tips to help make sure they don't try to take your deposit away:
Reread over your flat for rent contract.  What are the standards you need to follow to ensure your deposit is returned?  Does it say you need to deep clean the carpet?  Do the picture hooks that you put up need to be taken down and filled in as well?  If it does say so, then make sure they are taken care of.
Patch up any damages you may have made while staying there.  Make sure you properly fix them if you do have damages you need to take care of.  If you leave a hole in the wall or any major damages to the house, you are basically telling them you do not want your deposit back. Making everything right will make your total costs of renting a flat in London cheaper.
Make sure that nothing that was included in the property has gone missing or broken.  Check everything thoroughly to make sure everything is in order.  If there are any items that need to be replaced of fixed, make sure to do so before you leave.
Go around the flat and take pictures to prove you have thoroughly cleaned the property.  These pictures could be very useful evidence in case your landlord tries to blame you for something you didn't do.
Make sure to deep clean.  Have a friend or a family member that is very keen to finding messes or something that could be cleaned better.  We all know at least one person in our lives, perhaps your mother in law!  Have that person go around the flat, studio or bedsit and see if there is anything you have missed during your sweep through.
If your 1 or 2 bedroom flats to rent in London agreement says you must have a professional clean the property, you may need to provide the receipts as proof for your landlord.  But, if the contract says you need to have it cleaned to a professional standard, you can do this yourself as long as you are careful and thorough. 
Save up to hundreds of pounds switching  energy
You have the possibility of saving up to hundreds of pounds a year when renting a flat by switching energy.  Just because you don't own the property you stay in, doesn't mean you can't make the switch.  Even if your rental agreement says you aren't able to switch, you shouldn't be prevented without reason according to the energy regulator Ofgem.  If you pay your landlord for any bills included in your rent, then that would be an exception.
Even if you don't have any previous bills, you are still able to compare prices by answering a few questions on websites that allow you.  If you do not think that your landlord's decision to switch will not change, you can create a list of facts to help explain how much will be saved if you made the switch. 
Have a prepaid meter? No problem.
Even if you have a prepaid meter, you can still switch energy suppliers as long as you directly pay the energy company.  If your flat rental agreement states that you are not allowed to change, I say challenge them and try to change their mind.  If you want to change your meter, it is best to try and get permission in writing stating you have the go ahead to make the switch first.  The reason for doing so is because it could be seen as changing property from the original condition, unless of course you plan on changing it back at the end of your tenancy.  Just keep in mind that the supplier may charge to change it, so make sure you check first before you go about the change. 
Free furnishings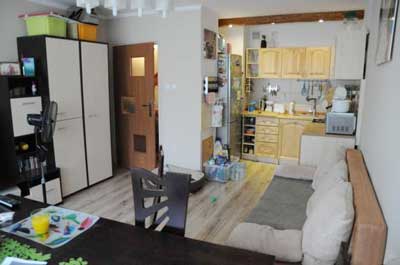 If you have decided to rent out a one bedroom or two bedroom flat in London that is unfurnished or partly furnished, there is a pretty neat trick to help you furnish your place for the time being. 
There is hundreds of great quality stuff that are available for free daily on web communities. There is no catch for these sites; they are simply trying to get rid of unwanted furniture without the hassle of selling or sending them to the dump. 
You may find quite a few items that seem like they do belong in the dump, but if you look hard enough, you will find some pretty top notch furniture also. 
Rentals on-the-go
Most of adds with inexpensive flats to rent appear at anytime and disappear very quickly. There are applications for your smartphone to help you find houses to rent that are located in your area or around the London area you prefer.  Most of the applications are very easy to use and navigate around.  And as long as you have internet on your phone, you can pretty much use the app anywhere and can also use the location services in case you are in an area or street you really like.
Flats for Rent payments to go on credit score
It was brought up that in March 2012, rent payments would be able to appear on your Experian credit file.  This means that if you are on time or late on your payments, it could have an effect on your ability to gain credit.  So if you pay your flat rent on time, you have nothing to worry about. 
No link to your flat mates Experian was originally planning to link flat mates financially, at least those who have a shared tendency agreement, but decided against it due to too many complaints.
Who does this apply to?So far this will only apply to private flat rentals.  It won't be in every contract, it must be inserted by the landlords.
Why are they doing this?So the credit reference agency can open a new income stream.  Soon landlords will be able to pay to search credit files before they decide who to rent out property to.
Who is able to see what?Your cheap London flats for rent payments will be on your credit file in a section separate from your mortgage, credit card or loan history.  Landlords will be able to see your rent paying history to help pick from their potential tenants.
Joint accounts with your flat mates can possibly affect your credit rating
Credit scores are a system that is used by lenders to check if you are attractive to them financially.  They use your actions from the past to predict how your future behaviour will be like.  If you are financially linked to someone on anything financial, it may have an impact on your scores.  A joint bill account that is shared with your flat mate/s can mean that you could possibly be co-scored.  If there are two or more names on a utility bill with a default, it is possible that it will be reported on all credit records. 
If you are moving house and had joint finances with your flat mate/s, make sure to write to the credit reference agencies and ask for a notice of 'disassociation' to stop their credit history from affecting yours in the future once the accounts are separated and no longer active. 
Your landlord must ask before entering
If you are renting a small flat or a bedsit, it is possible for your landlord to need to come in every so often, whether it be from repairs or to inspect the property.  If your landlord wants to come into the flat, they must give you a notice of at least 24 hours or whatever is noted on your house rental agreement for advance notices before they come by. 
If your landlord stops by and comes in without permission, you have the right to stop them or deny them entrance.  If they proceed to enter without consent their actions could be considered harassment, which is a criminal offence. 
Know where your stopcock is
Your stopcock is where you can turn on or off all the water in the house or flat your are renting.  It is always best to know where it is located in case a pipe bursts and water starts pouring out, but hopefully that doesn't happen.  If you have searched around and still can't seem to find it, you can always ask your landlord to show you where it is. 
Are they reliable?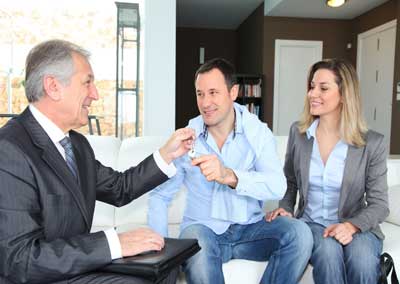 If you ask yourself a question where and how to find cheap flats to rent in London you should also ask the questions how to find a good landlord?
If a landlord you are thinking about renting from gives off the impression of being unreliable, then it is best to find somewhere else to rent from.  If they set up meetings with you and they appear late or take long to return your call, I'd say back out while you still can. 
If they don't seem very reliable, then how do you expect them to on point with repairs or maintenance?
Renting a flat directly from the owner - Do not hand over any money to the landlord unless you have gotten their full name and a contact address.
Renting through letting agent - Estate agents represent a firm that rents out flats on behalf of the landlords.  Make sure to check if they are a member of a professional body.
Do you need your own TV license when renting a flat?
If you are renting, even if it's a room or a whole house, you must be covered by a TV license in order to watch or record programs while being shown on TV.  If you have rented the flat at cheap price in most of the time you will need to get one yourself, but just in case, speak to your landlord and ask if you are already covered.  If you live in a separate flat or any self-contained accommodations, you will need to get your own license. 
If you are a lodger and you have a relationship with the homeowner, you will be covered by their license as long as you live in the same building.  If you do not live in the same flat, you will need your own TV license.
Check flat letting agency fees
If you rent a small flat through a letting agent in London, make sure to check for any extra fees or charges beforehand.  If a private landlord or letting agent isn't listing their fees clearly, you won't get compensation, but you can bring it up to the ASA to have them deal with it. 
In an investigation lead by Shelter, they found that some renters are given unfair fees.  If you are one of those flat renters who are hit with high unfair fees, you can try to negotiate to have the fees lowered.  There are no guarantees that the fees will be lowered, but if you do end up getting lucky enough to have them lower it, make sure you get it in writing. 
Get permission to redecorate
When renting, you are usually asked to return it in the same condition upon arrival.  If you would like to redecorate the flat you have just rented you must ask your landlord for permission, and if you do get permission, make sure to get it written in the contract or get written permission.  Without permission to redecorate, you will need to take down or repaint everything to the original colour. The costs of bringing the rented flat to the original state will have to be covered by you. Before you start redecorating your flat to rent in London you can ask our Removals Barnes firm to help you out with moving your furniture around.
Substitute nails for frames
Before you start hammering in holes for your pictures, mirrors and other decorations, it is best that you check your 1 bedroom or 2 bedroom flat in London rental agreement beforehand.  Most landlords do not allow you to hammer nails to the walls to prevent damaging them and leaving a bunch of holes.  If your rental agreement is against nailing frames and other items to the walls, there is another solution to help you decorate your house.  Instead of using nails, we suggest trying out special strips that are able to hold up picture frames and other objects.  These strips can be found in your local DIY stores and are fairly easy to use as well.
Write down any flaws and use them to lower price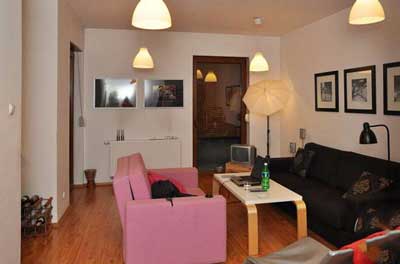 If you have found the perfect renting flat which is in your desired location in London and find it a bit overpriced, you can always try asking the landlord if they would agree on lowering it. 
If they are hesitant, you can always try and use the flaws you have noted down to get them to negotiate the flat to rent price. 
Of course the landlord is not obligated to negotiate, but it doesn't hurt to try. Finding a cheap big or small flats to rent in London is about finding opportunities.
If you do not ask for discounts your chances to get a cheap flat fall by 80%.
Never wire the money to your landlord
If your landlord asks you to send a payment for the rent via money transfer, ask them to accept bank transfers or even a check.  If they insist on having it sent through Western Union or any other instant money transfers; don't do it.  Instant money transfers are unable to be tracked, with bank transfers there is no protection, but at least your bank or police can help trace it and possibly get your money back.
If you aren't happy, don't sign
Once the contract is presented to you, make sure you read it thoroughly before you sign.  Make sure the contract includes the amount asked for the rent and deposit, due date, what is covered in the agreement, and preferred tenant behavioural and expectations.  If you do not agree on things in the contract, try and talk to your landlord about it and try and come to an agreement.  If they do agree to change something, make sure they make the changes to the contract so there is evidence in case of a disagreement. For more tips and advice on where and how to find a cheap 2 bedroom flat, studio or bedsit to rent in London you can contact our office. We will be happy to email you our latest step by step guide on how to rent a flat in London safe and as cheap as possible.
Note down meter readings when moving in
To make sure you are not charged for whatever the previous tenants were using the flat, make sure to write down the readings of your meter upon arrival.  Once your have that done, bring it to the suppliers, so that way you won't be over charged. The first day of your removals is usually a good day as there are many people present which can be your witnesses in case of any problems.
Ask as many questions as you can think of
Before you sign the contract, make sure you ask any questions you are unsure of or would like details.  For the questions that may seem important, ask for their answers in writing. 
Top ten questions:
Up to how long is the contract for?  Are there any scheduled flat rent increases?
How long has the property been up for rent?
Can I take a look at the electrical, boiler and gas installation checks or reports?
Can I check what are the average monthly costs for the gas, water, electricity - ask for previous statements as they can tell you anything.
Do you have more affordable flats to rent in the Greater London area?
Is the deposit in a deposit protection scheme, if so which one?
Is maintenance in lawn expected?
Is it furnished? If so, what is included?
Who lives upstairs? Are there any complaints against them?
Is a parking permit needed, or is a parking space included?
How long did the previous tenants live here?
What is the council tax band?
You can be held responsible for other tenants actions
If you are under a joint tenancy, make sure you are careful with who you sign up with.  If one tenant messes up, it will also reflect on the others under the contract as well.  So if one tenant doesn't come up with the rent, the others will have to find a way to cover it for them. Make sure everybody pays for his room separately and it is on the contract. Each month monitor if the utility bills are paid. If they are not this is a sign to give your notice to the landlord.
Pack a box of essentials
Pack a box full of stuff that you may need when arriving to your new place.  Make sure to clearly label it and pack that box last, so that way it's the first box you pull out when unpacking.  A box of toiletries, cups, soap, bottled water and whatever you may need would be great to have available when you have no idea where anything is. Use strong and appropriate packing boxes to reduce the risk of damages to your personal belongings.
Update your addresses and redirect mail
When your London flats for rent are ready and you move, it is a good idea to get your mail redirected to your new address. This would be really helpful when it comes to your bills to ensure you don't have any missed payments.  It is also a good idea to update your mailing address for whatever you get mail from, so that way if someone else moves in to your old place they won't be receiving any mail addressed to you. 
Look around the neighbourhood
Just because the flat looks great, doesn't mean the neighbourhood is.  When planning on renting a big flat in London for cheap, it is always good to inspect your neighbourhood to see if it is a safe location.  It is best to ask around for other people's view on the neighbourhood if you know anyone who has lived around that area. 
Questions to ask on the day when moving flat contents
When moving your flat contents to your new home, it is quite easy to forget to ask your landlord some very important questions.  Make sure to write down questions you would like to ask them so you don't forget anything important. 
Here are a few questions you might want to ask:
Where is the main water stopcock located?
Where can you find the fuse box?
Where are the gas and electricity meters found?
When is trash and recyclables collected?
Are there any instruction manuals for the electrical items in the flat?
Who are the gas and electric suppliers?
Where is the thermostat?
How do you get in contact with the landlord/ letting agent?
Where are the TV aerial and phone line sockets located?
Who supplier handles the home phone and internet?
Take pictures of the flat you like and want to rent
When you view so many cheap London flats to rent it is hard to remember the details of each apartment, bedsit or studio.  If permission is granted, take photos of the flats you see, so you can view and rule out whatever you don't like to make things easier. 
Save your landlord's number to your phone
It is best to have your landlord's number saved on your phone in case of emergencies.  If something were to happen like a busted pipe and you don't know where the water valve is, you don't have to waste time sorting through papers to find their number. 
No locks might affect your insurance claims in shared flats
If you are sharing a place with other flat mates, your insurance will not cover you for theft unless there is evidence of a break in.  If you have locks, always make sure to lock them even if you are only stepping out for a little while. 
If you have no locks, there will be no signs of forced entry, which most insurance companies need proof of.  If there is no proof to provide, they may not cover you for the stolen items.
For more questions on how to rent a flat in London for cheap give us a quick call. We will be happy to help you find one.