House moving tips
Sometimes, people may decide to relocate for one reason or the other. No matter the reason why you are moving, you definitely will not find it easy.
Whether you are moving in a rented apartment or in a new home of your own, the project can be challenging because it involves a lot of things.
The success of the project depends on how you are able to handle the challenges of the moving.
In order to help you have a successful, easy and stress free relocation, we have taken time to prepare some most essential moving house tips and tricks. You will find the project easy if you follow it carefully.
A successful move is all about thinking and planning ahead. This is exactly what this best tips for moving out and in are meant to achieve.
Make a list
Our first moving hint for you is to make a list of all items to be moved and to be disposed of. There is the tendency for some people to think only of packing their items immediately once they have acquired a new apartment. This should not be the right attitude. Our tip is that the first thing to do is to make a list of all the items you are moving with and those you are not going to move with. You can prepare this list in a notebook or excel document using your computer. Have columns for different groups of items to be packed in the same boxes. Fill in any item you pack in the list and also note the box where they are packed. It can also be more helpful to group the items according to the boxes where they will be packed and places they will be used. For more tips on how to prepare such a list please send us a quick email.
Get enough packing supplies
This is not the time to manage or be frugal with supplies. Our next moving home tips relate to learning about different types of boxes and packing materials. You have to get enough supplies so that you will have enough boxes to pack all your items. Having enough supplies, such as boxes, will make the packing easier. To avoid waste of money in case you want to do it by yourself, tell the supplier that at the end you will return unused ones and get a refund. In this way, you don't have to waste any money if there are surplus.
Another moving tip you should take seriously as you start packing early, you should not use up all the boxes. You have to keep some boxes that you will use for last minutes or to pack the items you will use the day preceding your moving day. If you forget to leave some boxes, you will have problem on your moving day when you want to pack those items used a day before moving home. Besides boxes, there are other wrapping supplies that you should provide such as plastic tape for sealing up the boxes, cushioning material such as bubble wrap or unprinted newsprint and marker or labelling material. Here you can find more packing tips for moving.
Begin on time tips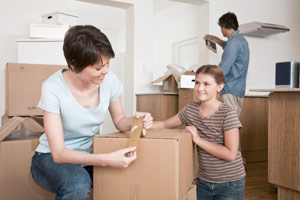 House moving tips can be very helpful. A move does not come up impromptu or by sudden unless in a rare case of transfer or similar situation.
Normally, you take time to make up your mind to move. Even if you are looking for houses for sale and want to buy one you have also to decide on time whether to rent it out or live in it. This means that you have enough time to plan your move.
The number one of all tips for moving we are giving you in this section is don't wait till the 11th hour before you start planning.
Take advantage of our moving in tips You have to get organized early enough before the moving day. Ideally, you need about 30 to 60 days to start planning for your move. There is no need to hurry over everything.
Plan your move strategy tips
It is important that you figure out your move strategy on time. We have a few good tips for planning and moving. Work out how to move from one stage to another or from one point to another in the moving day. What routes are best for you? What time is the best to start leaving? Do you need the help of your friends? Provide some moving tips to your family members. Do you need to contact removal companies or not?
These are some of the questions you need to ask yourself in order to create a better strategy for yourself. There are several factors that determine what constitute the best strategy for you. For example you can follow this moving day tips, the nature of the move determines whether you will hire removals London or not. If you are relocating to a far place, then you have to hire a company and if you are relocating just within the same neighbourhood, you will not need any to carry your items.
Our essential house moving tip is to use You and some of your friends. Together you can do that. You may even do that alone by taking your items one after the other gradually until you have moved in all. We can provide more moving on your own tips.
Moving Advice
Communicate with your mover tips
Next removals tips we have for you concern communication. Try to keep informed all parties involved including your children. If you plan hiring cheap man and van London, it is important that you maintain communication with the company or you explain the details of the move to the company.
Some firm have their own removal tips and can provide a great deal of moving advice. Before you hire the company, you have to explain everything about the move to them including your expectation and requirements. This is very important because it ensures that you are on the same footing with the company before sealing any deal with them. If the mover is aware of your expectation and requirement, they will be able to give you a better estimate of the cost of your move as well as your move time.
Next tips for moving out is that you should also let the company know about the nature of the items to move and their estimated weight. Most movers normally visit the house before giving a final quote. But you still have to let them know what the items are like. If you do the packing by yourself, on the moving day when they items are being loaded unto the truck, you should be around and let them know the nature of the items packed in each box. This will help them to know where to keep each item. Our main moving tips is that you should communicate with them by email. It is always good to have everything black on white. You can contact man and van Acton for more advice.
Get the right size of truck tips
Remember the more moving hints you provide to your removal people the better. Also If you want to drive to your new home in a rented truck by yourself, you should ensure that you have the required driver's license that will enable you to drive the vehicle. Secondly, you have to ensure that you hire a truck that is big enough to contain all your items. You can call us to get some how to estimate the volume. If you are planning business removals Southwark we can arrange free on-site survey to determine fixed price of your relocation.
We have some great moving tips that will help you work it out. If you are moving down the street or just within the same locality, you can afford to go two trips. But that will be difficult and a waste of time and money when you are moving to a very long distance. So, you have to hire the right size of truck so that you wouldn't have to look for a second truck or start looking for another truck. This moving tips will definitely save you some money.
Make good use of the opportunity tips
Sometimes, we have a lot of clutters in our homes' closet. As you can imagine this moving tips will be about getting read of the items you no longer need. We have a special page about how to declutter your home but you can see a few tips below too. Some of them are no longer useful and some we don't even remember that they are available in the closet. The moving time is an opportunity for you to de-clutter your home and get organized.
Move only with items that you still need. But those items that you no longer need or you have not used since you kept them in the closet, you should dispose them off. You can give them to charity or dash them to people that need them. You can also sell them as used items. If you want to sell them, you have to begin on time to advertise them. You can sell them via online marketplace like eBay or even take them to your local auction market. We could provide many more moving tips and advice. No matter the platform through which you want to sell them, you have to carry it out on time. As a rule of the thumb, move only with those items you make use of.
Establish a packing system tips
During the process, it is important that you stay organized in order to avoid much damage and loss of items. If more than one person is loading the boxes, it is better to have one person handle each room or area and the other handles another room or area at the same time. Provide them with all the required wrapping supplies including a pen, marker or label, other materials, cheap packing boxes, tape dispenser and others.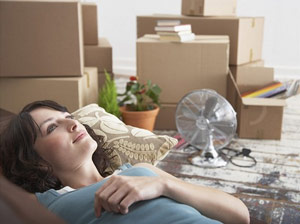 As you are filling the boxes with goods, you should also be thinking of unpacking. As it was mentioned above, you have to keep all items to be used in a room in the same boxes.
Even if you use different boxes, you should label them properly indicating their contents and where they will be unpacked. One more very important moving tip is don't miss up items that you will keep in your closet with items that you will keep in your rooms.
Provide a reusable plastic bins for items to be kept in the closet. Label them properly.
Boxes that contain breakables should be marked to enable movers know about it so that when they are loading it inside the box they will handle them with caution or keep them where they will not break.
Find out what the rules are in the condo you are moving to tips
If you are moving to London to a condo, it is necessary that you find out the rules and regulation guiding the condo. We have some tips in this matter too. In some condos, moving in on Sundays is not allowed. So, you have to keep to rules and regulation of your condo especially now that you are moving in for the first time.
There are more tips for moving you should know about. The same thing is applicable if you are not moving in a condo. Always make sure that you work in line with the rules and regulations guiding any location you are moving to. In some locations there may be restriction on movement in certain hours of the day. So, you should find out if there are any such restrictions in the locality you are moving to.
Get ready for the movers on the moving day tips
Whether you hire movers or your friends are helping you with the move, it is important that you get ready for them. The main moving tips and rule is you should wait for them and not the other way round. Waiting for them means that you have to keep to the time you agreed with them. If you are doing the loading by yourself, then you have to pack everything and get them ready to be loaded unto the truck before they arrive.
You don't have to keep them waiting. Do not forget to give you friends some moving hints and tips. You know about you move everything because you have planned it but your friends may even have no experience in relocation. If you hire packers, you should ensure that you complete the loading before the moving day so that the movers don't have to wait for them. To avoid any delay, it is better to give the packing and moving services to the same company. You will even get some discounts because some companies give discounts to people that hire more than one service from them.
Order for new items on time tips
The main tip to follow here is not to leave anything to the last minute. If you want to order for some new item, you should place the order on time so that the order will get to you before the moving day. Alternatively, you can place the order in your new location or give your new home address as the order delivery location. In this way, you will avoid the problem of late delivery which may delay your move.
Differentiate trash from belonging tips
Our moving home tips will give you a good advice on marking things for moving and for throwing away. You should be very careful not to mistake belonging with trash. Such a mistake can be very costly especially if valuable item is lost in this way. Such items as jewellery should be handled with caution. They are very expensive but can easily be missed or lost among refuge.
Moving hints
Make arrangement for your pet tips
There is the tendency for pet owners to do everything except making arrangement for the movement of their pet. Of course our moving tips here will give you a few hints on things to do when moving with a pet. Some only remember that on the moving day. If you have a pet and you want to relocate with it, you have to make arrangement for the moving of the pet as you planning the entire move.
You should also consider hiring a pet sitter in case the pet will be traumatized by the move. If you are hiring movers, make such that they are proficient enough to handle pets and inform them earlier that you have a pet that you will be moving with. We have also prepare a few must know moving tips for moving with a dog and moving with a cat.
Bid farewell tips
Moving tips are also about the people that you know. Remember to bid your old neighbours farewell. You can inform them that you are moving few days before your moving day and then bid them farewell. You will be surprised to find out how they cherish and value you. Some people may even organize a send forth part for you and your family or even give you some present.
Inform the necessary people of your change of address tips
There are some important people that you should inform of your change of address. There is nothing worse than forgetting about letting know all interested about your move. Make sure you use this tips for moving. You have to let your insurance company know that you have changed address.
If you are not going to retain their services, you have to let them know and cancel the existing one. In case they offer service in your new location and you want to retain them, then you have to find out from them whether the terms will remain the same or not. Your banks, religious, social and any group you belong to, friends, and well-wishers and your children's school if you have children should also be informed.
Prepare some edibles for your movers tips
You have to be nice and hospitable to your movers whether they are paid workers or just friends helping out.
You will definitely have a successful moving experience if you abide by the above pieces of moving advice.
For more home moving tips please contact us directly. We have a great deal of moving hints and advice for you.