How to move with children abroad
When you are embarking on a move away from your bases, you will find it very excruciating especially when you are moving to an overseas country to live and work. However, this move becomes more troublesome when you are moving with your kids.
This is because your kids will not find it easy leaving the old environment and adjusting to what the new environment will bring.
When you want to move with children abroad, you should tell them about the move first.
This is the first set advice and preparation for the move with children to Spain, Australia or France and you must tell them early enough. Always first try to find as may advantages as possible to make your kids excited about moving.
Don't allow them to overhear you talking about it when you have not told them and insure that you tell them at the appropriate time, preferably when they are in a very good mood.
Their major worries are always cantered on losing their comfort and friends here, and the difficulty of making new ones. They don't want to lose the enjoyment of the safety and familiarity of the present time and location. So, while telling your children about the move abroad or to another city in the UK, get information about things they will like about the new place and tell them about those, so that you can build the needed excitement before the move. Tell your children about new adventures, new cultures, the things they love that will be present in the new destination, etc.
You have to develop a plan for the removals, and when you do, explain such to your kids. Also allow them to ask questions about their concerns related to the relocation. When they do, offer them honest answers. You have to be ready to acknowledge their questions as good and needed ones. You should tell your children when you don't have the exact answer to their questions.
Preparing the kids for the move
Other things you should do to prepare your kids for the move includes the risk taking strategy and this will involve trying to get them in the mood. Try and allow them do those things they will be doing in the new location. For instance, you can embark on some adventures that will be regular when you move with kids. You can start with some domestic issues like meals and outings.
You can take your children out and treat them to new meals especially the ones that will be available in the new destination. You can start getting them to socialize and interact with other children before the move, so that it will not be a difficult thing after the relocation. If the new location is close to the current home, take children to the place and let them make friends with the kids around the area already. If you are moving together with some neighbours, get the kids talking and socializing.
The next area is the question and answer section. This is the area that you use to douse the tension of the move and to know how your kids are taking the move.  In sincere terms, just ask your kids what they think about the move and how they see it. In most cases, they will answer you with questions. You may get answers like, is it because of what I did last week that we are moving? In most cases, these questions will open up an avenue for deeper conversation between you and your kids. By listening to your kids you may get a good tips and advice on how to move with children.
Relocating with kids - how to do it right?
Within the conversation, you have time to ask kids if they have any special concerns about the move as it concerns their friends, school, the home, neighbours and neighbourhood and many other things. When you know their thoughts, you know how to handle same, and again, such conversation makes them feel involved and possibly relaxed about the move. If for example your are moving to London, France, Australia or Spain you should find some interesting facts for kids about those places. Making your kids curious is the key to a successful relocation.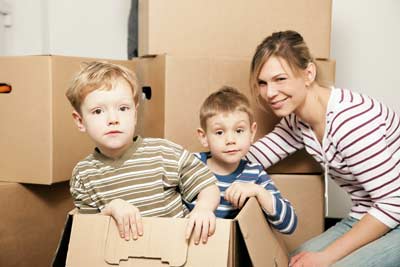 When it comes to relocating with children, you must know that grown up kids and teenagers are more difficult to move with. Little kids may not find it difficult moving, but the grown ones find it difficult adapting. You have to ask them how they want the move to be embarked on. How they want their new rooms to look like? How they want the parking to be done and many other things. Get their opinion to know the things that will make them happy.
You can also give your kids the option of choosing how they want to say goodbye to their friends and how they want to part ways. They may choose a party or may even choose to design a scrapbook with the pictures of all their friends on it. If they choose a party, you can divide it into two or three get-togethers to meet their friends. However, for you not to make the move artificial, try and keep to all the dictates that the family has upheld. All your family cultures and rules must be maintained so that they will not feel the move as a change. Continue all the routine things you have been doing in terms of their feeding, academics, time out and time together and many others.
You also need to make the new home or destination more familiar to them. If you can move your properties to your new home and make it look exactly like the old one in terms of positioning and settings, it will make your kids to feel at home and adapt easily. The next thing you have to do when moving with kids is to find things that will make you and them excited about the removals. Also find things that will make your kids excited. Get excited and upbeat about the move and your mood will affect those of your kids.
Relocating with kids can be fun
Serious lecturing about the new country is also very paramount, and here, you have to concentrate on the positive aspects of their area of interest. When you do so, your children will get more interested and anxious to experience the things you tell them. This will make them to start longing for the move. When you succeed in doing this, you have solved the how to move with children problem.
Some youngsters may have negative academic, social, and behavioural effects as a result of the move. If they develop any behavioural problems after the move like developmental regression, fear of being alone, being clingy and many others, you can offer a solution by talking to them. Allow them to tell you what the problem is and how they are finding the move. You can start the solution from here.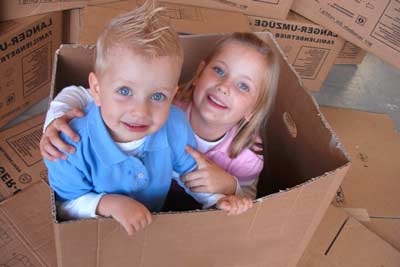 Some of the simple things you can get them excited with before relocating with kids are by making a family wish list.
This will line out the things everybody wants from the old home to the new home.
You can also embark on the house hunt with your kids. When relocating with children you engage them in the hunt for houses for sale in the place where you are moving to with your kids, you will find out that they see it as their own thing and will always want to move to their new found house.
When you must have found and paid for the house, you can allow them to be the people to map out their new room and decide how it will be decorated. They also map out the things they want taken from the old room and the ones they want changed.
Let children pack their belongings
You have to allow your kid to pack his or her treasure to packing boxes for moving. Just get a box for him or her and allow him to be the one to pack it. This box should look childlike as it will be decorated with stickers and those things and characters that appeal to kids. You can also make a very precious visit to your neighbourhood spots to make the last memory before moving. It is also good to make some memory book and have a special goodbye session to your home.
While relocating with kids, make sure you have the moving survival kit that will have moving snacks, immediate toiletries, important documents, meals, cloths to change with, torch lights and other important stuffs. You should also prepare for relocation with children to a new home. You can check our moving house checklist to get more organized.
For more tips and advice on to to move with children please contact our team. We can email you our free moving with children guide.
Are expecting a baby? You can check moving when pregnant article.