Painting house on your own - tips and advice
On average every 5 years people look to renovate their homes. Before their start the consider different options to make the house look nice and fresh at a minimum price.
So how much does it cost to paint a house exterior? Can you do it on your own? It it difficult? How long does it take on average? How much would painters charge for painting a house?
If you buy a home or you move into a new apartment, you can save money by painting your home by yourself. Besides saving money, there is a feeling of internal happiness and joys carrying out such a project for oneself brings. You will be proud of your achievement. Definitely, you will tell your friends that you are able to paint your house by yourself. Here are some tips to apply if you want to paint your house.
How much to paint a house by painters?
If you would like to hire a professional painting and decorating company in London the average cost for painting the exterior of a 3 bedroom semi-detached house assuming that the render is in a good condition would be between £450 and £850. So if you had a detached 3 bedroom house you would have to pay well over £1000. If the house exterior require preparation work like sanding, house cleaners, plastering, repair you would have to at least double this amount. Spending over £2000 it is not cheap and make people wonder how much to paint the house on their own? Well in fact it is not a difficult task to accomplish. As long as you fit enough to claim the ladder you will be fine. Even if you have no experience at least one of your friends or family members will be happy to help you out. By painting the house on your own you could be saving as much as $500, £1000 or even over £1500 depends on how big is your house and what's need to be done.
Getting all the necessary painting tools ready
Once you have decided to paint the house on by yourself you will have to get a few painting tools. The first thing to do if you are looking to paint your house is to get all the necessary painting materials and tools. The necessary painting tools you require are the painting brushes of various sizes and types. You will also require a large bucket for putting or missing the paint, a ladder for climbing and your working attire. Once the necessary tools are ready, you can now choose your paints.
Paint options
Choosing a right paint is important. How much it will cost you to paint a house will also depend on the quality of the paint you will choose. As you want to paint on your own you have saved a lot of money already so there is no point on choosing a paint from a bottom shelf. Basically, there are two different types of paints that can be used to paint a home's exterior. They are oil-based alkyd and water-based latex. Each of these paint types has its own advantages as well as disadvantages. Water-based latex can easily dry after it has been applied on the wall. The odour is not too offensive. It is less likely going to crack because it lasts longer. With water and soap, you can easily clean it up. However, the Alkyd paints does not clean up easily with soap and water but it is more durable. Besides, it resists stains, dries with fewer brush marks and flows very smoothly. This is why professional painters prefer using it to water-based latex paint which is more affordable. It is left for you to decide on which option that will serve you better. If your home is formerly painted with alkyd paint and you prefer to repaint it with water-based latex paint, then you have to scrape off the initial alkyd paint before you can apply the new one. Secondly, whether you are using alkyd or water-based latex paint, you should go for quality paint for long-lasting, thicker and more protecting coating. Another advantage of painting the house on your own is that you can do it whenever you want. You are not moving house content and can sleep at home. Also you will have no strangers looking at you through the windows :).
Read the instructions
Take time to read instructions on the label of the pain you buy. Some do-it-yourself painters do not read the instructions on the label. But the instruction on the label will help you to produce a better painting. You should try to know more about the outdoor air temperature and prepping the surface. Make sure that you apply the paint under the stipulated temperature. Most paints aren't to be applied when the temperature is 50 degree F or below. However, there are some paints that are made to be applied when the temperature falls down to 35 degree F or below. How much does it cost to paint a house will depend on your approach. The goal is to do it once and good. If you do not read the how to paint the house on your own instruction you may not be happy with your end results and will have to repaint all exterior one more time. This will cost you more money and more time.
Check removals Hillingdon.
Preparing the surface
I you want to find out how much to paint a house you should have a closer look on its exterior. Before applying the paint on the wall of your home, it is important that you prepare it by getting rid of the previous paint or all dirt, mildew, grime and stain on the surface. You will require a power sprayer in order to easily accomplish this task. If you don't have a power sprayer or you are not able to purchase one, you can use a stiff-bristle brush to hand-scrub and get rid of stain.  Make sure that you remove all nails from the surface of the wall. Alternatively, you can hammer then below the surface of the wall of your home. Use the exterior-grade putty to fill the holes created.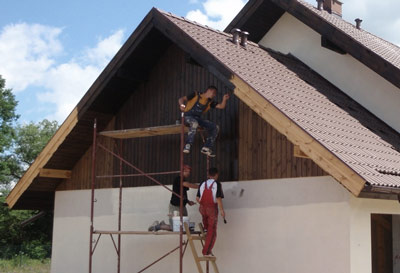 When you have gotten the wall ready, you can now start painting the walls of your home. You don't need to remove the old paint if it is still in good condition and does not have any stain or accumulation of debris and dirt on it or has not flaked off.
Just apply the new paint on it. If there is any bare wood to be painted, it has to be primed before it can be painted. You should use your brush and roller to apply the pant. For large areas, you will use your roller while you will use the brush to paint narrow areas.
A good tips and advice on painting a house on your own is to be as organized and clean as possible. In most cases you will need at least 2 or 3 days to have all you home exterior painted. Every day you finish the work remember to clean all brashes and rollers from the paint. simply wash them. Otherwise you will have to buy new once for each day.
If you really want to know how much does it cost to paint a house on your own you need to prepare a cost estimate. Our advice is to invite a few painters that offer a free survey and quote to provide you with their detailed bid. Once you have been emailed the quote you will have a lot of suggestions, tips and advice on what tools and how much paint you will need. With such a knowledge it will be much easier for you to figure out how much does it cost to paint an house on your own.
Additional house painting costs
When doing some painting work around your house you may need a skip hire services. You can also use it to get rid of all unwanted items from you house. You can follow the link how to declutter your home for more advice on how to make your property tidier.
Start in the shaded part of your home
Painting when there is sun makes the paint to quickly dry and thus it will not blend well with the wall. So, it is better to start with the area or part of your home that is shaded from the sun at that moment. By the time the paint will dry, the sun will be on that part and you move over to the other part which should by now be shaded.
Start from the top
Rather than starting from the bottom, you should start from the top and paint from the top to the bottom. You will require your ladder while painting the top. Make sure that the ladder is strong and can bear your weight for a very long time. You should climb with caution and apply the required safety measures. When you are done with the project, bring down the ladder and wash your tools and clothes. Allow the paint to dry.
For more advice, tips and prices on how much it costs to paint a house by yourself please drop us a quick email.
If you need some help with all the rubbish that have been produced during the painting activities you can contact a local man and van or Removals London for help.