Skip hire prices, sizes and services
Do you need a skip hire service?  We will offer you the best types of skip for your needs.  You have to know that one of the things that will make your de-cluttering exercise successful is the type of skip you use.
This starts from getting the rightful type from the skip hire services. Because you are not an expert, you need to hire from sincere and professional skip hire providers.
Here, we offer the best. Before we go into the main advice on how to hire, we have to give you information on the available sizes of skips to hire and the one that will fit your need.
Contact us today to find out how much it is to hire a skip in London - Croydon, Romford, Watford, Harrow, Ilford, Enfield, Hounslow, Removals Barnet, Sutton and more.
Skip Sizes and types
There are two main skip types namely open and closed. Open skips have no roof or lid in opposite to the roofed skips. There are mini, midi, builders and large sized skips. However, you have to be sure of the exact thing you need to skip. When choosing, be precise about the size and know that getting one big skip that will take care of your entire de-cluttering will be more affordable for you than getting two small skips. The sense here is that if you are moving to a new home, you have no business paying for things you will never use in your new home.
The mini types cheapest skips are meant for the wastes of low volume. They come very small and convenient for use. In size, they are approximately Height: 2'6" (0.76 metres), Length: 5' (1.52 metres) and Width: 4' (1.22 metres). This will contain 25-35 Black Bags. The next size will contain about 35-45 Black Bags. They are also for low volume wastes and have the size of Height: 3'2" (0.97 metres), Length: 6' (1.83 metres), Width: 4'3" (1.29 metres) and 3-4 Cu yards capacity.
There is also the type that is most popular among the mini sized ones. This has the capacity to contain about 65-85 Black Bags at the size of 6-8 Cu yards, with a Height of 4' (1.22 metres), a Length of 12' ( 3.66 metres) and a Width of 5'6" (1.68 metres).
After this, you now get the large sized skips. They are also good for use in domestic and business services. This will be the best bet for you when you have very bulky items.  This size can contain up to 180-210 Black Bags.  It has a capacity of about 12 - 14 Cu yards and comes with parameters of Height: 5'3" (1.6 metres), Length: 13'8" (4.2 metres), Width: 6' (1.84 metres).
What can you put in a skip?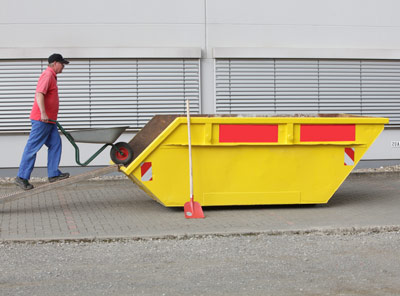 However, you have to know that there are some restrictions to the size and types of items you dispose in a skip when you want to declutter your home. These will include fridges, tires, asbestos, fluorescent tubes, TVs and monitors, oil, liquids, batteries, and other hazardous wastes. There are rooms provided for skips in your driveway. But if this is not the case, it can be placed on the road side, though you may have to obtain some license or permit from the authorities before you are allowed to do this.
Skips hire London can be used for the removals of non-hazardous waste such as used and broken furniture, old clothes, boxes, toys, broken tools, plates, green waste etc. If you would like to get rid of hazardous materials, equipment, and liquids you need to hire a special skip container and a concession. You must know that mixing up the hazards and non-hazardous things is against the low and you will get a financial fine.
To safe money on your skip hire requirements is it good to separate all metal components from plastic and wooden components. If you have a significant volume of metal items to be scrapped you can hire a skip for metal. Some skip hire companies in London offer such services at very low skip hire prices or even at no cost. It depends on the type and the weight of the scrap metal. To encourage you to separate the metal from all other items to be put into the skip please see the scrap metal prices in the table below:
Scrap metal prices

| Scrap metal | Price in £ per 1 kg |
| --- | --- |
| Aluminium | £0.49 |
| Brass | £1.79 |
| Bright Copper Wire | £3.09 |
| Other cables | £0.80 - (average price) |
| Copper | £2.60 |
| Stainless Steel | £0.50 - (average costs) |
Domestic items that contain valuable metal components and scrap metal are: motorvehicle parts, construction parts, packaging, electronic and electrical equipment, tapes, ornaments, door knobs, sculptures, fittings, ferrule, stripped aerial, telephone, Internet cables, solders, roofing lead, lead soldiers, wire coverings, pipes, boilers, radiators etc.., gardening tools, workshop tools etc...
Skip prices - How much to hire a skip in London costs?
Whenever you hire a skip from us, we will charge you both for the delivery, collection, the disposal or recycling. You will always get the best skips from us. One more thing is that you must make the appropriate space for our vehicles to come in and out when we want to take away your skip.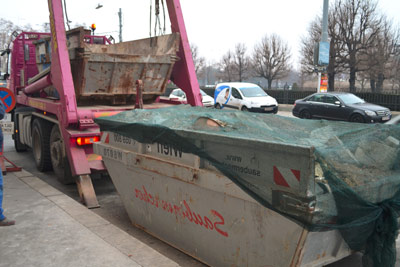 Other things you need to know about the cheap skip hire London include how to know the best skip for you.
To this effect, you need to consider how fast it can be delivered, what you can put in the skip, the size of skip you need to hire, the price of the skip hire, why the price is high or low, how long you can hire for, the weight each can contain, where you can keep the skip, access to the skip, what happens to the materials you drop in the skip, how to avoid fake skip hires firms, etc.
When you consider all the facts mentioned above, you will now have a concrete decision on the company and type of service to use.
Meanwhile, you can ask friends that have moved before to recommend skip hire firms to you. You can also choose by going online to read the feedbacks of UK companies as placed by clients that have used their skip services in the past.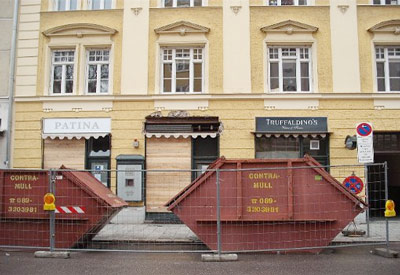 To find out how much you will be charged for a skip hire we will need the following details:
Your postcode

Skip size

Hire period - a couple of days, 1 week, 2 or more

Type of waste - household goods, construction waste, metal, hazardous goods, electrical or electronic equipment, green waste

Council skip permit - between £10 and £90 depending on the London borough you are located in
Average Skip prices London - including delivery, collection, recycling and weekly hire

| | |
| --- | --- |
| 4 Yard Mini Skip Hire - the smallest unit available | from £145.00 + vat |
| 6 Yard Open Skip | from £175.00 + vat |
| 6 Yard Roofed Skip | from £180.00 + vat |
| 6 Yard Drop End Skip | from £180.00 + vat |
| 10 Yard Open Skip | from £205.00 + vat |
| 10 Yard Enclosed Skip | from £205.00 + vat |
| 12 Yard Open Skip | from £225.00 + vat |
| 12 Yard Enclosed Skip | from £225.00 + vat |
| 14 Yard Open Skip | from £245.00 + vat |
| 14 Yard roofed Skip | from £245.00 + vat |
| 16 Yard Open Skip | from £275.00 + vat |
| 16 Yard Enclosed Skip | from £275.00 + vat |
We also provide 20 and 40 Yard Roll On / Roll Off skips for hire in London. Please contact our office or prices.

Items allowed in skips
To comply with the local council regulations and avoid any fines you should be familiar with what you can put in a skip. Below is a list of items allowed in a hired skip.

Bricks and other materials used in building

Items made of wood
Rubble, wreckage, ruin
Items made of metal
Hard Core

Furniture, sofas, bookcases, chairs, wardrobes ...

Furnishings, accessory, mountings
Fittings (non-electrical)
Gas Cookers, ovens
Plants

Things made of plastic, chairs, tables, any plastic

Packaging including cardboard, plastics, polystyrene boxes
Domestic waste such as food and food packaging
Soil (not contaminated with asbestos or oil)
Solidified paint, painting equipment
Green waste, food, flowers, plants, grass, leaves, twigs
Items you can not put in a skip
Below is a list of items you are not supposed to put in a skip. For the equipment, materials and products listed below you will have to book a special type of skip and obtain a hazardous products recycling permit. For more details about the permit for hazardous skip hire please contact your local council
All type of fridges and freezers
Electric Cookers
Electric Fans
Toasters, waffle irons, kettles, mixers, blenders, coffee machines, kitchen aid, food mixer etc..
Televisions, computer screens, screen games
Telephones
Computer Towers, laptops, calculators etc
Computer Screens, tablets
Microwaves
All sorts of Batteries
Plasterboard
Tyres,
Hydraulic, Engine, Cooking oils, corrosion preventing grease and other types of industrial grease
Medical Waste of any kind, especially needles
Compressed Gas Cylinders/Bottles (Full or Empty)
Vehicle Batteries, storage cells, accumulators
Solvents,Such as Terpenes, Esters, Hydroxyethers, n-Propyl Bromide, Isoparaffinic Solvents, Chlorinated Hydrocarbons, Alkoxy-propanols, Paint & Glue,
Other Chemicals (alkali, acids, heavy metals like Processing Fluids, Bleach, Detergent)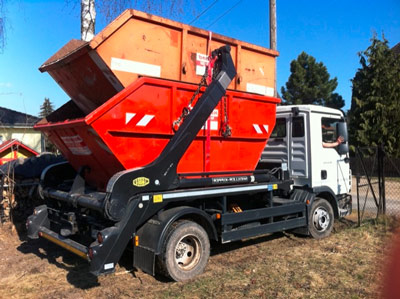 If you are planning to call a London skip hire company please be ready to provide some relevant information.
Tell the skip rental firm where the will be able to leave the container. If you do not have your own driveway, parking or a garden and the skip will have to be placed on a public street or pavement you will have to contact your local Council in order to obtain a skip permit.
You should know how long and what size of skip you will require. If you keep the skip without the permit in a public area the council may remove it without the notice. and you will be charged for the skip collection and storage. You will also get a financial fine and arrange for the skip to be collected from the council storage.
Skip permit cost depends on where you are - Croydon, Romford, Watford, Harrow, Ilford, Enfield, Hounslow, Barnet, Sutton, South, West, East or North London. Each local council has different skip permit prices which may vary from as little as £15 up to us much as £100. However most skip companies in London can contact your council on your behalf and sort out all administrative formalities and permit cost will be added to the final skip costs charged by the service provider.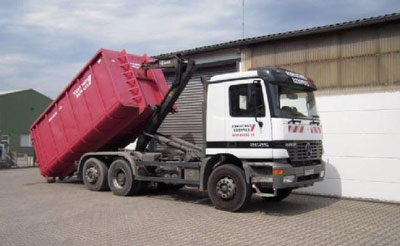 Unfortunately it is not always possible to use the skip due to the narrow lanes, bad access, no place to leave the skip, high traffic and more. An ideal solution instead of using London skip hire services is using man and van.
The moving men can help you with clearing your house. They will arrive at your property and take away any rubbish and junk you have gathered on your yard. It may even be a cheaper solution in comparison to hiring a skip as there is not need for using skips and specialist vehicles to bring the container to you and collect it.
You do not pay for the skip hire prices but just for the collection and disposal of your trash.
If you do not have time to compare London skip hire companies you can use our online website to request skip costs from up to 5 firms by filing just one online form. Comparing the cost of skip in Croydon, Romford, Watford, Harrow, Ilford, Enfield, Hounslow, Barnet, Sutton, South, West, East or North London is quite and will help you save money. It is the best and the quickest way to find cheap skip hire London.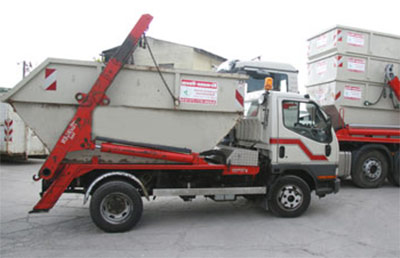 Some of the top London skip rental firms include:Hurley's Skip Hire, Fastway Skip Hire, P B Donoghue, IOD Skip Hire LtD, All Clear waste disposal, GBN Services, Rubbish Clearance, Kilnbridge Construction Services Ltd, Ricketts D A, Toulouse, JUNK ETC, A J Pain, Clearups and Hinkcrofts.
How much to hire a skip in London? What types and sizes are available? Is the delivery and collection included in the price? Are the any discount available?
What are approximate skip hire costs? Do you deliver to all postcodes in the Greater London area - SW1, N1, W1, SW1, E1, WC1, EC1? How much it is and what are rough rates?