Choosing removal men
Are you looking for removal men in London. We can do any type of job. Give us a quick call to find out our daily or hourly costs.
Daily removal men prices are calculated individually. Each job is different and we take in to the account the distance between the delivery and collection address, items to be moved, services requested and a few other factors. Daily removal men rate provided by us is a fixed price to get the job done.
Whether you are looking for Dartford, Wimbledon or Islington movers, we will find the right company to undertake any kind of relocation project.
Hourly removal men rate is fixed too but we do not estimate the duration of the move. The removal men come to your house or office and work for as long as you need them. It's a good solution for small jobs but please note that in most cases a minimum number of removal men hire hours is required.
There are many moving men in London ready to do the job for you. However you should be cautious when searching for removal men online. There are plenty of them advertising on Gumtree in other places on the Internet. The quality of service you will receive will differ too. Before you hire a removal man there are a few questions you should ask.
Do I pay per hour or do I get a fixed price to get the job done by removal men despite of the time it will take to complete the move?
What services are included?
Are there any hidden charges?
How many removal men will be provided?
Do I have to help out carrying boxes and any items?
How much do removal men costs to hire?
It is a very huge debate among many service users. The fact is that whenever you hire moving men for a service and they give you great services, you may have the heart that says, he did well, why not appreciate this. Now, on a very serious note, there is no obligation binding you on tipping any removal men in London because you have paid for the removals services in full. But it is a culture that encourages removal men to continue to do well in their chosen career, and you will be doing a good work if you encourage such.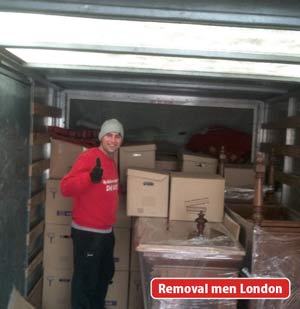 Many people find it very difficult to make the decision of tipping the moving men London when the moving is done. But it is something you can simply do if you wish or overlook if you do not wish. The situation here is that a good removal man is just like every other good service man out there. There are good ones and there bad ones, and when you engage moving men, you have completely entrusted the movement of your valuables of high importance in their hands. This may be people you have not met before and people that you probably were not even introduced to before they began the work.
Now, on the premise of the type of job that users do and the type of job other people rendering services do, you will have a special thing attached to that of the removal men London. When you get to a salon to barb your head, you are going for the barber to give you a good hear cut which if he makes a mistake will grow back in few days. Is this the same case with the moving men?
This may not be the same case. Here, you are talking about men that work more than all the others in the man and van services industry. If by chance the service man draws your furniture on the floor, or that your memorable portrait is left to drop on the floor and break, you may not get an exact portrait with the same emotions ever in life again. If this is the case, then you see there is more to the removal men than meets the eyes. They have more connection to your emotion through your properties and this must be recognized and appreciated.
Should I Tip the Removal Men?
Now, we have taken it for granted that all house moving men must do a great job. In the case of the removal men London, they must offer great services at affordable costs, and because of this case, we fail to see the need to tip them when the job is done in a great way. This is one we need to run away from right from this moment. They need to be tipped when they do great jobs lust like other service men out there.
In this case, whenever you think that you have been served by a very helpful, attentive and professional crew, then you have to go ahead and offer a tip to your London removal men. Here, you have to use your discretion to know what is fair. Remember, they will never ask for that, but that does not mean that it is not worth doing and that does not mean that they do not expect it or that they will not accept such. Give a tip when you feel it is necessary to the removal men London.
You will see the level of appreciation that will come from the moving men when you tip them, no matter the amount. One thing you need to know is that many people have been talking against tipping because they believe that it will be a waste of money since they will also be adding to the pool of finances that is available to the removal companies. But the truth is that the tips you offer them simply saves the removal men from the suffering of going home with a long face. In fact, you are putting a great smile on their face because it's theirs.
Removal men costs
On the tipping proper, it may be difficult for you to determine what to tip your moving men London. Because of this, you have to at least have things like a cold bottle of soda, coke, sports drink or water on hand.
This will give a very good welcome to them in appreciation for the first phase of the removal and get them rejuvenated for the second phase. Some may even get them lunch in place of the tip. It is also good; you can also offer both lunch and the tip. Here you can see how much does it cost to move house.
However, because the amount of property moved does not count much in determining the cost of the moving rather the cost is determined by the distance travelled, it will be difficult for you to start calculating what is appropriate as a tip to all the removal men. In general and acceptable terms, a tip from the range of £5 to £10 per person is actually good. Check how much is removals men Southwark or other areas in London.
Note that in some cases for example when you requested removals to France your moving men will have to drive long hours to do your furniture delivery on time. If you care about the time you can encourage your removal men London by promising tipping them if everything goes according to plan. Hire professional for moving furniture in Epsom and other areas.
To find out removal men costs please contact our office. Our moving men cover the entire Great London area.