How to calculate moving costs?
The best and the quickest way of calculating average house moving costs is chatting to us online. We will gather all relevant information and generate the time scale, resource schedule and removal costs involved in your move.
You can also give us a quick call or use our online form to obtain the quote.
Our typical moving costs calculator will take in to account the cubic volume of your move, number of boxes, requested services, the distance between your current and new address, the moving date and time.
Some people ask us for average house moving costs in London. From the experience we know that the approximate cost of moving 1, 2, 3, 4 or 5 bedroom house usually just a guess and in most cases does not much with the final fixed cost estimate. There are a few reasons why there average costs are far from the real ones. What makes the difference to the price?
Furniture dismantling and reassembly - it takes a lot of time to dismantle and reassemble a wardrobe for example. Professional furniture fitters increase the moving costs a lot.
Boxes - do you want movers to include the boxes in their removal costs estimate or you will be getting the boxes from somewhere else? For example a set of packing materials and moving boxes needed for full 4 bedroom house will cost about £120. If you do not want movers to provide boxes the quote will be automatically cheaper.
Packing services - to pack a full 3 bedroom house you will need 3 or 4 packers for all day. If you do the packing the cost of moving house will be cheaper by £300 or £400.
Furniture - Some people live in furnished flats or houses. If there are just boxes to move you can book man and a van company. In such situation your moving costs will be reduced dramatically.
White goods - In some homes fridge, freezer, washing machine and other equipment is built-in and not moving. White goods are heavy and big. Take a lot of space on the vehicle. If you are not moving them there is a chance a smaller vehicle could be used which will reduce the typical removal costs by even £50.
Mileage - the distance between your current and new home will affect the price. Moving within 5 miles would not involve any additional costs but moving to a location 100 miles away require more diesel and more time for the traveling there and back.
Stairs - carrying heavy objects up and down the stairs especially when you live in a flat on the 3rd floor will make your moving costs to go up.
Parking - when asking how much does it cost to move house in London or in other large city centre you need to take into the account the access. Is there a parking space, do you have to reserve it, is there and single yellow or double yellow line, is the area closed for the vehicles and open just for the pedestrians. Getting parking suspension costs about £65. If you can not park next to your house the long walking distance will change the removal costs too on your disadvantage.
Number of people moving - in a 2 bedroom house there may be 1 person or even 4 people living. More people means more furniture and more boxes.
Moving time and date - Calculating average house removal costs in London one must not forget about the moving time and date. Moving out of office hour, over weekends or bank holidays involves higher moving rates.
Garage, Shed, Garden Cellar, Attic - Not every 3 bedroom house has additional storage spaces or areas. Some houses have all some have none. If you have lived in house that has additional rooms they are probably full. It could be additional van load of goods or if you do not move them you need a skip hire to get rid of all unwanted items.
Size of the house - 3 bedroom house may have 70m2 or 200m2. The bigger rooms you have the more furniture and goods people tend to collect.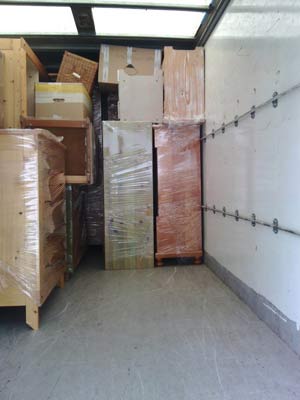 As you can see asking what's the average cost of moving a house in London and expecting an immediate and accurate answer is not something that one should do. All the bullet-points above tells you what factors affect home moving costs.
To give you an answer to the questions how much is to hire a removal company there would have to be a definition what is an average 1, 2, 3, 4 and 5 bedroom house. And as you know there is no such definition.
To make it easier to compare moving costs in London it is advisable that before you start contacting moving firms you get some information.
A good practice is to make a list of all biggest items. Such list with your moving date, addresses and other requirements you could simply email to companies you want to prepare a moving cost estimate for you.
Such approach would save you plenty of time. Instead of hanging on the phone and passing on the same details over and over to each company you contact you could simply get email addresses for movers' websites and send the same message to all of them at the same time.
The comparison of moving costs obtained in such way would be more accurate as every mover would quote based on the same information.
How Much Does It Cost to Hire a Removal Service
If you are moving house, office or anything at all, there is no doubt that you will first of all make proper and adequate budget for the project before continuing with it. To make appropriate budget for your removal, definitely, you will want to know how much it will cost to hire a removal service to move your furniture and boxes. So, it is not out of place to ask the question, how much it costs to hire a removal service. There is no fixed price for house removal as well as office, heavy equipment, hospital and school removal services. There are a number of factors that will determine that. Such factors which affect the home moving cost in London include the quantity, sizes, weight, shape and volume of items to be removed, the added services such as packing and unpacking, dismantling and assembling, cleaning and storage services that you hire, the pickup and delivery locations as well as the distance between them, the means of transportation to be used, the removal company you hire and other factors. The cost of removal depends on a person's situation. This is why it is said that every removal service is unique. Based on our experience and expertise, we will provide a general answer to the above question. We will begin by examining the factors that affect the removal cost. Contact us now if you need furniture delivery Epsom.
Size, volume and weight of your items
When finding out how much does it cost to move house in London the size, volume and weight of your goods are the main factors. The dimension, weight and volume of your item are among the most important factors that will determine how much it will cost you to move house, office or any other thing. Movers charge their clients based on the volume, dimension and weight of their items depending on the means of the transportation to be used. Normally, the cost of removal services by air are charged according to the weight of the items while the cost of moving a house by ship or truck are charged according to the volume of the item. Besides this, there are some other factors that determine the average removal cost to a certain extent which include but not limited to the size of the vehicle to be used for the transportation, the packing materials required, the equipment required for packing and loading and how long it will take to pack and load the items on the truck. The nature of your item as well as its weight, size and volume will also determine if extra work like removal of the door or the window in order to bring out the items from the house will be required. All these factors are considered by the removal company before they issue their cost.
Access
The accessibility of the pickup and delivery locations also affects the house removal cost. The access road to both the pickup and delivery addresses will determine the type of vehicle that will be used and the parking cost. If any of the destinations is not accessible by big vehicles like trucks, it means that many smaller vehicles like vans have to be used and this will cost more. Alternatively, the truck has to be parked where there is parking space and all items will be gradually loaded there. This means more time will be required for the loading to be completed and more hands will be required. The cost then will be higher. But if there is no access problem, the vehicle can be packed close to pick up or delivery addresses for packing and loading and unloading and unpacking respectively. In this case, the cost will be lower. To find out what's the cost of moving house please contact our office.
The distance to be covered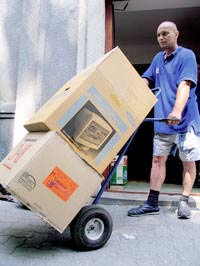 The distance between the pickup address and the delivery address determines to a greater extent the cost of removal. This is because it will determine the cost of transportation which normally constitutes the large portion of the entire cost. Long distance moves are more expensive because there may be more stops on the way and more drivers may be used. Besides, more fuel will be required for the transportation.
The transportation means to be used
Items can be moved using any of the transportation means but the cost of using these furniture transport means differs. Airfreight is more expensive than other means of transportation but it is faster. If you are using ship to move the items especially for a long distance move or shipment to far away continents where there is no road network link like Africa, the cost will be lower but it takes time for the items to get to the final destination. Ground transport is fast but not as fast as air transport. It is not as expensive as airfreight but not as cheap as using the ship. In other words, each of the means of transportation has its pros and cons. None is better than the other. It is your circumstances that will determine the best option for you. Contact us to compare average costs of moving a 2 or 3 or 4 bedroom house.
Additional services requested
The additional services such as packing, handyman, dismantling and assembling, cleaning, unpacking and storage services will determine how much you have to pay for your removal services. When asking the questions how much does it cost to move house you have to remember about all the services you require. At present there is no moving cost calculator that will take into account additional services.
Special care and valuable items
Valuable and fragile items like heirlooms, antiques, collectible, artworks, glass table top, electronics and the likes will require additional protection. Thus, the cost of shipping such items will be higher than the cost of shipping ordinary household items. Besides, you will pay higher premium on travel insurance for such items. Valuable goods make the removals insurance costs more expensive.
Special handling items
Some items may require special handling during removal. For example, overweight items may require lifting equipment like a crane for loading them unto the truck. Some items may also be very bulky that standard doors will not be spacious enough to move them out of the house. The door or the window may be removed before such items are removed out of the house. The cost of moving such items is normally higher because of the special handling involved. Also if you need piano movers you need at least 3 guys to lift it. If there was no piano 2 movers would be sufficient.
The moving company you hire their service
Each company has its unique quotes. Some companies give higher quotes for the same services other companies will charge either moderately or low. Removal companies that belong to professional associations will definitely charge more than man and van services or start-up firms that are still looking for customers and are not registered with professional association. The more professional service you want the higher house moving costs you can expect.
The pickup and delivery locations
The cost of living differs from city to city. The same thing is applicable to removal cost. Removal cost in cities with high cost of living will be higher than that of cities with low cost of living. The reason for this is quite obvious. The removal companies have their staffs in these locations. So, they have to charge high to be able to pay their staffs well so that they will get enough money to obtain their basic needs. How much does it cost to move 1 bedroom house?
The nature of the house where the items will be removed from and the house where they will be taken to
It is more time consuming and tasking to move items out of upstairs than to move then out of downstairs. So, if you are living upstairs, you will be charged more than a person living downstairs. Another factor that affects the home removal cost is the number of rooms you are moving. The cost of moving a room full of furniture and boxes in London is not the same with the cost of moving a bungalow or a house. The higher the number of rooms you are moving, the higher the amount you will pay. Below are estimated costs for removal of flats or apartments of different number of rooms based on distance to be covered.
Average cost of moving 2 bedrooms house
How much does it cost to move 2 bedroom house? The cost for moving a 2 bedroom flat or apartment within a distance of about 10 miles to a new home will cost between £265 to £400 depending on the weight and dimension of the items to be moved. Moving the same 2 bedroom flat to a far distance location is about 100 – 150 miles away from the pickup address will cost between £750 and £1100 depending on the distance to be covered, the volume and weight of the items and the circumstances that will be encountered from the start to the end of the move.
If you are hiring a packing service for a 2 bedroom flat or apartment, the approximate cost of the service will be within the range of £150 to £300 excluding the removal cost.
Approximate cost of moving 3 bedrooms house
How much does it cost to move 3 bedroom house? The cost of removing a three bedroom flat locally within a distance of 10 miles to a new address is within the range of £400 and £650 depending on the factors mentioned above such as the access, vehicles required and the number of staffs required to execute project within the deadline given. Removing the same three bedrooms flat within a long distance range of 100 – 150 miles will cost £900 to £1400 depending on your requirements, personal needs and circumstances as well as the factors mentioned above.
Typical cost of moving 4 bedroom house
How much does it cost to move 4 bedroom house? If you are moving a 4-5 bedroom house in London to a short distance within the range of 10 miles to a new address locally, it may cost you between £650 and £850 depending on your situations and the factors mentioned above.
But if you are moving within a long distance range of 100 – 150 miles for the same apartment, you should expect to pay between £900 – £1700 depending on your needs, circumstances and other factors mentioned above. The packing cost for a 4-5 bedroom house will be between £400 – £600.
The above mentioned prices are just estimated prices and so, they should not be taken as accurate prices. Though it will help you to have an idea of how much it will cost you to remove your items within the distance stipulated, there is still a need for the removal company you hire or you are looking to hire to carry out a home survey for you before they will be able to provide you with their quotes.
To save energy, time and money, you should allow us to provide this service for you. Once you contact us, we will assign a move manager to you, who will come to your home to do a thorough survey of your home. From his finding, we will work out a competitive quotation for you taking into consideration all the factors mentioned above and your needs if you have any.
Dos and don'ts when calculating removal costs
When you are moving house regardless of the locations, there are certain acceptable practice that you should abide by and pitfalls to avoid. Taking our moving checklist below into account you will be able to calculate the costs of moving a house more precisely. Below are some removal dos and don'ts.
It is important that you be honest with your move manager during the survey. The survey is very important as it will help you to work out detail and final quotes for you. When the time comes there is no space for average removal costs. You need to get a fixed price that you will have to pay then the move is done. So, show your move manager everything you want to remove. Don't conceal any one of them during the home survey. If you conceal any, definitely, the removal teams of the company that you hire their services will find out and they may refuse to pack or load the items on the truck on the packing or removal day.
Steer clear of removal companies that offer per hour services. At the beginning, per service may be more affordable but as you continue with the project the total moving cost may soar up if there are hitches or delay on the removal day. Traffic jams, elements of weather such as rainfall and snowfall can delay the transportation. It is advisable to hire a moving company that charges a fix rate and that does not charge for waiting times for people in the chains or for keys. If you hire fixed service, you will be able to make accurate budget and you will have a rest of mind that you wouldn't have to pay again. Any quote given is final moving cost estimate insofar as there is no hidden charge. Call us to tell you how much does it cost to move house on average.
Make sure that you hire a reliable service to handle the project for you. There are many companies but you have to be selective. Don't be convinced easily by the ads and well created web contents of the companies because some of them are just empty promises. You have to do a background study on the company that you want to hire their services in order to ascertain their reputation and reliability. As well as you compare moving rates you should compare the providers.
Removal options

f you are moving house, office or any other item, there are several removal options to choose from. Below are some removal options that you should know.
Do-it-yourself move
The best way to cut cost on moving is moving by yourself. Moving the items yourself implies that you will do the packing, load the vehicle and drive yourself to the final location. So, it can be very challenging and difficult. Therefore, brace yourself up for the challenges. Determining the quantity of moving materials you will require can be very difficult. Given this, it is advisable that you make use of our online packing calculator to work out how much packing materials that will be enough for you. Make sure that you purchase new and quality packing materials because the type of packing materials that you use for the packing determines the safety of your item. Moving boxes are stamp with their rating. Make sure that you use the right moving boxes for each item. Give the items proper padding of at least 2 inches or more depending on the value and fragility of the item. If you do not tend to get some help with moving you can answer the the How much to move house in London question yourself.
Begin on time to do the packing. To ensure that you do not forget any item, it is advisable that you make a list of all the items that you will pack. Pack the item according to the list and tick any item that you pack so that you will be able to know those that you have not packed. After packing the items label the boxes properly so that you will know the items that they contain. Secondly, it is also advisable that you pack items that are going to one room in the same box and indicate where they will be unpacked. In this way, you will make unpacking easier for yourself. if you forget to take anything you will have to go back for it. This will affect the moving costs.
When you are done with the packing, decide on the day you will be moving. There are several transportation options depending on the amount or quantity of items that you will move. If you are good at driving and you have the license to drive truck, van or big vehicles, you can hire a van or truck from vehicle rentals that provide them. But if you cannot drive, then you should hire a moving company to provide the transportation services for you. You can hire a man and van service or professional removal services depending on the quantity of items that you have. If you are driving yourself, it means that you will be loading and unloading the items. Look for friends that will help you to load and unload the vehicles.
Using a man and van service to reduce home moving costs
A good number of people moving house use man and van services thinking that it is a cheaper option. Sometimes, it is not always cheap. It all depends on your situation. But if you want to hire a man and van service, ensure that you hire a reliable company that provides insurance coverage for their clients. Man and van services normally charge per hour. If you are hiring a man and van service, the cost for their service is within the range of £45 and £55 per hour. You will also be charged for the fuel used during the transportation. Another thing that you should know is that man and van services in the UK charge for a minimum of 4 hours. In other words, if it takes less than 4 hours to move the item, you will still have to pay for three hours. You can use our free cost estimator to determine how much the move will cost you. You also need to find out from the man and van service how you will be compensated if they cause any damage to your items or your new home when they are unloading them. Find out from them what and what are covered by the insurance. You can contact us to see how much it costs to move a house in London. We will use our removal costs calculate and provide you with an estimate ASAP. Contact our Hounslow removals branch to check costs of relocation services.
Moving down the street
If you are moving down the street, you may not require a man and van service or moving company. Just ask your friend to help you move your items from the current home to the new home. Make sure that you prepare some edibles to offer them after they have helped you.
Cost of hiring a moving company
The cost of hiring a moving company as mentioned above depends on a number of factors which have been explained. If you ask 10 movers how much does it cost to move house in London be it 1 bedroom, 2, 3 or 4 bedrooms, each firm will give a different moving costs. But the best way to know how much it will cost you to hire a moving company is to request for quotes from various company online. The more quotes you have, the better it will be for you. However, make sure that you compare all the quotes using the same criteria or indices. In general, it will cost between £500 and £1300 to move a 2 bedroom apartment that has furniture in it from Scotland to England. The cost will be about £750 if you are moving the 2 bedroom flat within a small distance of 50 miles. 
The parking permit is another thing that will cost you some money. The amount depends on the type of trailer you are using. The road authority of your locality will be able to tell you how much the parking permit will cost. Normally, it is your responsibility to arrange for parking from your local authority if there are no enough parking lots at your home. You should also get the parking permit for both the pickup and delivery addresses.
A good means of saving money on this is to ask your neighbours for parking space. If you are lucky to win their favours, you will be saving some money on your house moving costs. However, whatever be the case, you have to tell them on time so that they will have enough time to think over it and make necessary arrangement like parking their own vehicles somewhere else.
If you have found a reliable company to tell you hoe much does it cost to move house contents, schedule the moving day. Make every arrangement before the date and make sure that you have no other schedule on the day of moving because it is advisable that you stay around during that day. Before the company takes your items out, you have to review the paperwork to ensure that everything is correct. Secondly, you should supervise the work especially if you are going to pay per hour. If you don't supervise the work, they may idle away the time and you pay for hours that they did not utilize. Get the payment ready as agreed on so that you will not have to quarrel with them. If you are paying per hour, then mark the time they start their work and when they end it.
Calculate the total time and pay them at the end of the work. If you agreed on a fixed moving price, at the end of the work, pay them as agreed. Make sure that you have a copy of the agreement as evident of payment arrangement; and if the removal company starts asking for payment not stipulated in the agreement, you can provide them with a copy of the agree as a reminder in case they have forgotten. If they refuse to stick to the agreement, you can terminate it and look for a more reliable company that doesn't have hidden moving costs.
Note that the removal companies do not have a fixed price for their services as mentioned above. The furniture removal cost varies from company to company. 
Ways of determining the removal cost
There are different ways through which you can determine the cost of removal services of a company before deciding whether or not to hire them. Here are some of the ways of determining the removal cost. How to calculate the house moving costs:
Arrange the survey
It is always advisable to invite the mover that you want to hire to come to your home to assess the items to be moved. With their findings, they will be able to work out a final quote for you and advise you properly on all moving costs involved. At this stage, there is no obligation or agreement between you and the company. So, you are not obliged to hire their services if you are not comfortable with their moving prices. In other words, you can invite more than one company and schedule home survey with them on different dates. At the end, you compare their average moving costs and quotes and choose the best. Check our page on the necessary question to ask the Removals London before hiring and make sure that you ask them relevant questions to clear all your doubts and confusion on that day before making any commitment. Once the survey has been completed movers will be able to tell you how much does it cost to move house in London. Remember that at this stage of relocation you do not want hear about approximate home moving costs demand a fixed price with no hidden charges.
Normally, the movers you contacted will send a move consultant who is highly knowledgeable with the services of the company and very quickly will tell you how much approximately it will cost to move your home contents. The move consultant assigned to you will answer all your questions even those that you cannot find in their FAQ. During the home assessment, there are some important points that the move consultant will concentrate on. They include:
the volume, dimension and weight of item to be moved
the access to and inside the house
the nature of the items to be removed including furniture (they will take a look at the furniture to see if it will take some time to remove the item from the house owing to their shape)
the value of the item and how fragile they are
the type of packing materials that will be required
the road access to pickup and delivery addresses
The move consultant will consider all these factors and discuss them with you and use his house moving costs calculator to work out the total price of your move. If you require extra services like packing, unpacking, cleaning, dismantling and assembling and storage services, moving pets or pool table removals you will let them know and it will be discussed. After discussing all your needs and taking note of them all, the move consultant will work out detailed and final and accurate house removal costs London quotes for you either there or in their office. If he works out the quotes in their office, he will send you a copy for your evaluation. So, get the house removal costs and compare them. In case you are not comfortable with the quote, it is advisable that you ask for review providing reasons why the quotes should be reviewed. You can look elsewhere when your request is rejected.
Using online house moving costs calculator
If you are very busy that you have no time to spare for the home survey to be carried out in your home, using an online moving costs calculator should be the best option for you to discover how much on average it will cost to move 1, 2, 3, 4 or 5 bedroom house.
There are a number of companies that have online average removal costs calculator that their clients can use to determine the price of their service.
If you prefer this service, you should avail yourself of our online calculator. Unlike many other sites we have online calculator that can determine the moving cost as well as the packing cost in case you want packing services as well.
However, the online calculator will only give an estimated moving cost. It does not provide the final cost unless you are able to provide detailed and accurate information about your items. Another reason while online calculator does not provide detail information is that there are some details and costs that may not be included in the online calculator form.
Comparing moving cost estimates and quotes online
Many people think that it is easy to compare moving costs. But in actual sense it is not easy because a lot of things are involved. If you want to know how much it is to move house we can help you calculate all costs involved. It is not just a matter of taking a look at the total cost. When comparing the moving cost estimates, you need to ask yourself a lot of questions. Some of the questions to ask when examining the quotes are? Does each quote take the distance to be covered into consideration? Does each removal cost consider the volume as well as the weight of the item? Do they consider the availability of access and parking space? Does the moving price include all the required added services? Is insurance included in the quote if you require it? Is the company a registered member of any professional body? What means of transportation will the removal company use for the move? These are some of the important questions to ask when comparing quotes. If you evaluate all the quotes you have based on the above questions, you will be able to find the difference between the quotes if there is any.
Having taken time to compare the moving costs and quotes, it is also important that you compare the removal companies that issue the quotes to ascertain their reliability. There are a number of factors to consider in this regard. Do they have good reviews from their previous customers? Do they have positive records? Are they faithful to agreement? Do they have history of court cases with disgruntled clients? Are they moving costs all inclusive? Do they have strong and effective customer support unit? How flexible are they with their services? Do they offer one-stop services? Are their removal teams friendly and polite with their clients? These are some of the questions that you should ask yourself when you are comparing the various companies that you have their quotes.
If you are looking for moving home costs, office, warehouse relocation estimate, heavy equipment or any other thing and you require efficient services, you will give yourself a better and soft landing ground by using our efficient and reliable, quick, professional and friendly services. Do you want to find out how much does it cost to move house? We can give you approximate costs of moving home within minutes. Not matter the type of furniture you have in your home or the size of your home whether it is a bedroom apartment or 5 rooms apartment, we have the necessary expertise, manpower and equipment to safely and successfully complete the move for you at reasonable removal costs. We provide both local and international moving at affordable average cost to all cities in the UK and across the globe. As experienced moving costs comparison provider, we offer a one-stop service. This means that we do not provide only the transportation service, we also provide other services that are related to removal including packing, unpacking, dismantling, assembling, cleaning, refuge removal and storage services. If you hire multiple services from us, you will get some discount. We also provide quality packing materials and moving boxes to any client that orders for them for the packing of their items. If we are providing the packing services, we will provide you with quality boxes and other packing materials.
We have built reputation in the industry. Check our records to see for you that there are no negative records or history of delays in our record. We work with only reliable agents and that are shipping companies registered members of professional's bodies and are licensed to provide the services by competent authorities.