How to move a piano?
Initially, if you own a piano that you want to move, we deeply recommend that you choose professional piano movers to carry out the job, particularly if there is no lift and you have to use the stairs.
Pianos are awkward and heavy and at the same time quite valuable too. If you do not have the experience in piano removals you could damage your back, damage the piano and spoil your house interior.
Please give us a quick call or use the online form to request a free quote for a piano move from our company. We have specialist piano moving equipment like stair-climbers, piano lifting belts, dollies, sliders and vehicles with tail-lifts.
We offer affordable piano moving costs to all our new and repeat clients. We can collect your piano from anywhere i Greater London and delivery to anywhere in the UK. We also offer international piano removals through our network of shipping companies.
Whether you want to relocate just one small baby piano, standard upright piano or large and heavy grand piano we are the right mover to get the job done with no stress and damages. Contact best piano movers London today!
When you decide on moving the grand, up-right or baby piano by yourself, here are a few tips to assist you.
Remember, the pianos are not just heavy, but they are inconvenient. Standing poster can help in carrying all weight in the upper half while feet and legs can be weak, so you are going to require some extra arms to support you. We offer our services in Chingford, Removals Putney, Hackney and all other Greater London areas.
Piano moving equipment and tools
Purchase or Rent some heavy duty straps that will give a better grip on the piano. We suggest using a furniture trolley, one that can hold the load of the piano. Bands and straps can also be utilized to fasten the piano to the trolley. In case of doubt, speak to a upright and grand piano moving equipment rental agency. They will direct you to the correct tools and provide recommendations depending on the kind of piano you wish to lift and move. You will also need to buy or rent blankets or padding to guard the piano against impacts. It will also relief in protecting walls from scrapes and cracks. In case of an international piano removals the instrument will have to be placed in a wooden crate for maximum protection when moving.
Protect the keyboard cover
In the beginning, lock and close the keyboard top to check it from opening through the removals. The keys are delicate and must be guarded. If the keyboard cover does not close, then arrange such that when wrapped, the piano keyboard cover is closed. Do not use tape to hold the cover closed, as this will ruin the wood covering.
Piano protection methods padding and blankets
Cover precisely the corners, binding it with tape. Keep the tape from connecting with the piano's top cover. Make sure that the padding or blanket is dense enough to keep the piano defended against any shocks. If you want to you can buy or rent out a professional piano cover. If you hire London piano movers they should be equipped in all needed packing materials and moving equipment. Contact local removal companies Richmond and ask if they sell items to protect piano during transportation.
Picking the piano for moving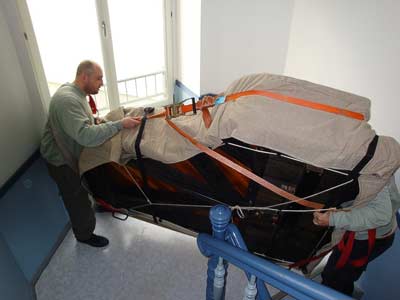 When elevating the piano in position, either on the furniture trolley, on a vehicle or to transit it to a different location, remember not to move it by legs. The legs portion is fragile. Also, hold the piano always in an upward position. Putting it on its side is not proper for the internal mechanics. Include two men on every end of the piano, and then put the straps below the piano's base, keep the strap on each edge. One person should be holding one end of the strap, pick the piano and put it on the furniture trolley. Then secure it, securing that the piano legs are flat on the trolley. If the piano has wheels, either fasten the wheels in place or guarantee that the piano is well bound.
Loading the piano onto the removal van
The piano needs to be placed at the back of the removal vehicle, put it next to the rear wall. The rear wall is backing that isolates the vehicle's cab from the area behind. Several electric or standard piano movers recommend using wood platforms to give a flat flooring for the piano, as most vehicle floors may be elastic. Some piano may be even palletized and moved by pallet trucks, hydraulic forklifts or Busy Lifts. It will relieve stress on the wheels and piano legs, which will force to secure during the transit. If you utilize planks, then put them accompanying the back wall. Pick the piano from the trolley and put on the planks, and then utilizing the straps fasten the piano to the vehicle wall. Piano removals will be easier if you plan everything from the start to finish. For small piano removals you can get removal costs from a man and van London. It is the cheapest way of moving small pianos.
Lifting, loading and positioning the piano
Prior to moving the piano in London into your new house, make sure you identify the place where it's to be placed. It needs to be against a wall and ideally, an inner wall where it will be defended from the damp and cold.
When the piano is in its position remember that each time it is moved, it will require tuning. Although pianos are huge objects and look pretty stable, their internal workings are fine to bumps and movements. A professional piano movers know people that will help to retune it to play perfect once again.
Cheap UK Piano Movers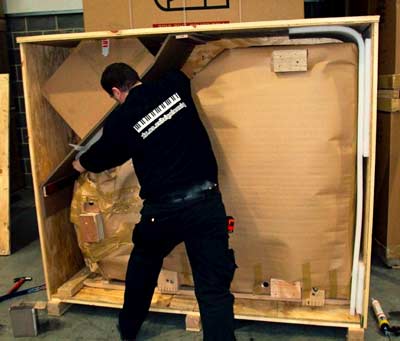 London piano removals are on the rise with advancement in time, and not surprisingly, they are bestowing strong and competent piano moving services to the people. In order to establish themselves in respective business, they are providing competent piano removal costs to the customer and satisfying each and every customer in every aspect.
Cheap Piano movers London are one such service provider as they help you shift your precious and beloved piano to any place within quick time making sure the item is in working condition. The professional piano moving companies will make sure that your favourite musical tool is not damaged and is successfully relocated to your desired location.
Before selecting such professional services, make sure you select the best team as they can help you to transfer all forms of piano or body organs taking utmost care and also within affordable piano moving cost. In accordance to it, professional UK piano movers also make sure that the transportation is reliable and also quick enough.
The best of piano removals will help you pack and take necessary steps to keep the valuable thing safe enough to relocate to any new location, efficient and experienced service providers can make all the difference. Always bank on such professional piano movers while relocating your costly musical tools.
Cheap piano removals
Piano is a costly item and more importantly may be your favourite musical tool. So while relocating or shifting and lifting it is important to make all necessary provisions and get the help of an expert group as they can efficiently transfer and move your piano to any new location. The best of piano team will help you to relocate to any new place and that too keeping in mind affordable piano removal cost or budget. Mostly, when it is within the same town or state, the deliveries are done on the same day, and extra charges are not applied for this. Moreover, the best of piano movers plans and organizes the relocation in such a way that it is based on your weekend holidays or any other time as per the convenience. Getting the help of such professionals can be helping as every move and solution of such group helps in all possible manner. Get cheap piano pick-up, transport and delivery in London!
Affordable piano moving costs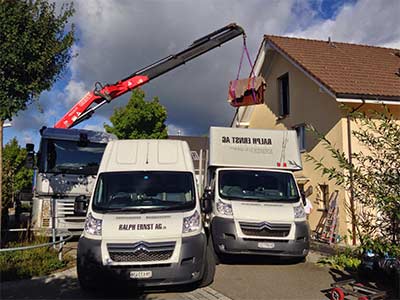 Before selecting any professional piano movers, it is important to make sure that the moving cost is affordable and within budget. Mostly, there are some hidden costs and additional charges that are being imposed after the item is being delivered. In case you need house removals London too it will be cheaper when you choose a company that moves pianos too.
Such cases are quite common and so; it is important to identify who all are efficient and reliable keeping in mind the price range as well.  Moreover, there are some companies that charges high on transporting upright and grand pianos or relocating delicate items based on their length or weight.
All such details should be carefully understood before selecting any piano move or removal services. There are also some insurance policies that are being offered to make sure your favourite tool or musical instrument is at its best possible shape or working condition.
A professional and reliable piano removal company may not impose such extra or any hidden charges. Make sure to keep in mind or track if all such details that can help you to relocate one of your costly items in any place.
Piano collection and transport
When it comes to collecting, lifting and transporting the piano, it is crucial to ensure that the work is done or completed without any hassle. There are many piano removal firms, but few services are hassle-free and useful. Moreover, when it comes to relocation and shifting of any expensive grand pianos, it is also important to select services that are far developed and efficient in terms of its team member and equipment that are being used. With such team, you can rest assured about the item or goods, which are being relocated. Any such professional team helps you to trust on them and effectively relocate any of your costly items or any musical instrument like piano in an efficient manner. So whenever you are selecting any removal services make sure you get the best team working for you. Get professional piano moving man and van for your relocation. We can also move your piano to a storage in London.
Piano pick up and delivery
With the best of professional grand piano movers, you can always get assurance that all your expensive items and goods will be delivered to that respective location or destination within that assumed or guaranteed time. No matter whatever is the situation or how serious problems arise they will be delivering the piano within that committed time. A professional piano mover is well aware, how much important and close it is for you and hence they take every possible precaution and necessary step to deliver the upright piano within that time and with no damage. They take all secured and necessary steps to protect the keyboard from all severe conditions. So, get the best piano moving team working while you are relocating piano, one of your favourite tool or musical instrument.
Once all such points are kept in mind, you will definitely get the best possible services while relocating piano to any destination. Security is of utmost concern and it may be your favourite tool and is costly enough.
If you need some piano moving tips or advice please contact our office.
Professional transportation of  pianos and grand pianos in London
Many families own either a piano or a grand piano in their homes. When it comes to moving into a new home, transportation of these belongings  becomes quite a serious problem. This task is never easy and it usually requires professional help to be hired. Contacting Removals London promises safe care of these expensive objects.
The prices of pianos and grand pianos usually vary between hundreds and thousands of pounds. Therefore, it will  be better if you entrust their transportation to experienced movers, who will  use special equipment such as strong straps and belts, trucks with tail lift and etc.  This will  be essential for preventing any kind of damage.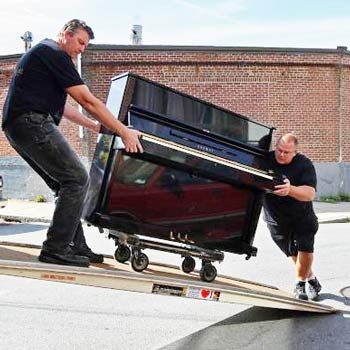 When it comes to expensive belongings, their owners expect perfect and careful attendance.  This is the reason why a  London piano moving company should be contacted. They will  devise a detailed plan, prepare the needed equipment for transportation, loading and unloading of the objects inside and outside the truck.
The piano is quite a massive musical instrument with serious weight.  Imagine carrying such an object down winding stairways (or even regular ones) or taking it out trough narrow doors. Professional piano transport London will know exactly how to deal with situations like the two mentioned above. You can contact removals Westminster for more details.
The biggest secret of cheap London piano movers are the well educated and experienced employees.  They can handle objects with specific shapes and enormous weight. Your musical instrument will be well packaged and transported to a location of your choice  in the exact hour you want. The customer gets full guarantee.
Also, it is good to know that the prices for transportation of pianos in London and grand pianos vary depending on the number of floor, the presence of an elevator and the destination.
Undoubtedly, using the services of London piano transport and delivery firm gives you the advantage of feeling secure and calm when you think of lifting,moving and transporting your expensive piano or grand piano.