Can I move myself?
Many people want to save money by moving to a new place by themselves. Unfortunately not always they end up with the outcome they have planned. Moving by yourself has more disadvantages than advantages.
If I wanted to move myself I would not get any insurance, could damage my back, my furniture and my personal vehicle that would be used for the removals. So it is really a good idea to move house on your own? Everything depends on how organized and resourceful your are.
Some people will find moving on their own extremely hard and some will do just OK. One think is certain if you do not have any experience the moving by yourself will cause you a lot of stress. Luckily most of the problems can be avoided. Below you can find some good tips on moving boxes and furniture on your own.
Can I move everything myself?
The first question you should ask yourself is can I move myself? There are many things you can do for yourself, and one of them is moving. Now, to put the facts straight, if you are not an expert in removals you have to engage the services of professional people to move all heavy items like safes, sofas, wardrobes as you will not be able to move them on your own.
But in situations where you need moving house or organize you flat removals on your own which does not have much furniture in it, you have the chance of saving yourself huge amounts by moving by yourself. You can actually do it perfectly well. So the answer to the questions will I manage the move by myself is yes under assumption that there are no heavy items that only two, three or more people could move together.
Will I have time to move by myself?
Before you decide on moving your household goods on your own consider if you are going to have plenty of time to do everything yourself. There will be plenty of other activities you will have to confront.
For example you will need to take care of putting your old house for sale, finding a new one, getting a mortgage, take care of the address change, look after your children, pack everything, organize skip hire for items you no longer need and combine everything with your full time work.
Taking all that into account you should think twice before you start moving home yourself.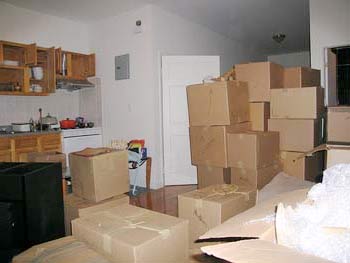 If your house is a small flat, the studio flat size, one bedroom flat or even a student's room, you can actually move by yourself. 
In this case, you can actually tell your friends to help you by giving you some hand. You can hire a man and van or even a moving trolley and with these, you can pack up and get on the move.
While moving by yourself has the principal advantage of saving some amounts of money for you, there are however some other disadvantages that may be encountered in the process.
For you to get a perfect move on your own, you have to get the best information about completion issues, van hire, and legal issues. Some of the pertinent issues you must consider when you are planning such move includes the vehicle to use, the timing of the move, how healthy and fit you are and issues of insurance.
Timing
One thing you have to bear in mind is that if the property you will be moving to will be completed on the day of the move, you should strive to insure that the vehicle you are moving with by yourself can contain all your properties on the go or at one load. This is to forestall situations where you get to the new place and discover that you cannot move in yet since work is still ongoing. While waiting, you prevent those who are supposed to move into your old house from moving in because your still have some of your properties in there. This is why you must always move with a large enough vehicle that will contain all your materials and also to insure that you have the keys in your hand at the appropriate time so as to move in. When moving household equipment yourself planning is very important. The timing must be right as you do not have any storage place to keep things if there is a delay.
using your own vehicle?
When it comes to the choice of vehicle when moving yourself, you have to know that the smaller vans will be cheaper for you. It is not recommended to use your own vehicle. Simply in most case it will be to small. There are probably many items that will be to big for a personal car. In the same vein, you also have to brace up for the hike in price if you go for the huge ones. We offer you all sizes of vans depending on the one you need. The bigger vans will make the whole process easier for you. But you have to worry about fuel and license issues.  You can get to know the size of van that is good for you by getting a quote from a removal firm and knowing the size of van they intend using. As you can see moving by myself brings a lot of issues you have to think about.
However, because removal companies London can pack your properties in an expert manner which you may not be able to do, even the small sized vans may contain the size of things you cannot make them contain. So when doing the removals on your own it is always advised to hire a bigger van than what they will. You can get our van hire guide and use it to know what will be best for you.
Other things you need to know when planning to move by yourself is that long distance moves require bigger vans, because you don't want to make the mistake of a round trip or having to go twice. Fuel cost will also be higher than what you pay for your ordinary car. All these will inspire what you will hire. Packing on the day of the move is a bad omen. Pack early, so that you won't have much worry on the day. You can also check our packing tips to find out how to pack things yourself.
If you decided to hire experts rather than moving by yourself, check our furniture removals Islington companies and make your move as easy as possible.
Insurance
This is the next thing to worry about when it comes to moving on your own. Check to see if you have an insurance that covers your household content even when you are moving on your own. In some cases, the protection comes only when you use professional movers. You have to read your prints well.  You have to check the amount of coverage offered, as it concerns the time frame and the maximum amount of funds. See more about removals insurance.
Your health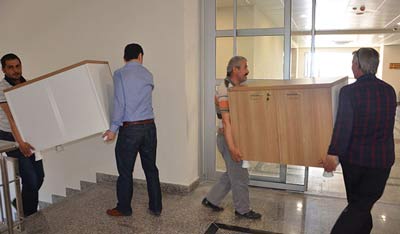 Is moving by myself safe? This is another serious aspect to consider when moving by you.  If you are moving to London during the summer period, this exercise will pose serious mental and physical challenge.
Are you ready to stomach this moving by myself problems?  You can get a better self-move if you have friends and families helping you, with a problem solver at hand.
You need to work out the logistics of your move by yourself on time. Having a countdown list will help. Plan your route and get some backup contacts too. Getting the real size vehicle and the best packing materials is also paramount.
You also need to know how to declutter your home and recycle on time before the move let us know. For more tips and advice on moving on your own by yourself please contact our office.