Cheap London flat removals
Moving out of a flat or into a new flat can be very challenging, stressful and daunting especially if there is not lift and all your furniture, electronic equipment, glassware and boxes need to be carried down or up the stairs.
But the entire process will be very easy for you if you hire our London flat removal services. Whether you are moving 1 bedroom or 2 bedroom apartment full of furniture, crockery or your kitchen cabinet, our team of flat removal men is trained to handle any household item.
Our professional and cheap studio apartment removals crew will ensure that your belongings get to the new destination safely. If the flat you are moving to or out of is the first floor of a two or more story building, our team will ensure that your belongings are brought to the ground or move up to the right floor safely. The items are carefully arranged and kept in perfect transit condition.
Flat removal companies
Definitely, there are other London flat removal companies with lots of claims in their ads. However, we have always made a difference in the removal industry in London. First, we take time to hire and train our London flat movers so that they will be able to handle any type of one bedroom or two bedroom apartment removal job. They are not just experts in loading and moving items, they can also handle other projects related to flat removal.
Such studio apartment moving projects include packing, unpacking and domestic cleaning services. One thing is being able to deliver these services and another thing is using the best and safest practices and work ethics to deliver these services at cheap, affordable and competitive flat moving costs. We handle all the items of our clients with utmost diligence no matter what they are, be it books or antiques.
As a professional London flat moving company, we know that you will not like anything to happen to your belongings. You will definitely not want your items to be dirtied in our position. To ensure that our client's goods are not exposed to dirt, we maintain high level of hygiene. First, we keep our van and other removal vehicles and tools very clean.
Once, your items are loaded on the vans and the vehicle is closed, nothing will happen to them. You will get them in good condition in your new flat. We have also taken some strict measures to ensure that loading of your flat equipment into our vans or truck is done smoothly and quickly without causing any damage to your item. We deliver house removals in Richmond and other areas for many years and our always take a survey of the items to be removed and then come with the necessary moving equipment such as trolley and removal blankets that will help us accomplish the task easily and successful. Having been in the apartment removals business over the years, we have been able to acquire all the tools required to remove any type of flat furniture safely.
Planning a flat move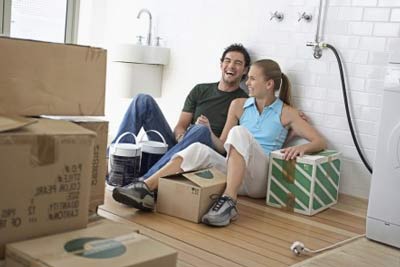 Unlike many other flat removals London, we do not start any flat relocation project without first developing a suitable plan for it.
The leader of our apartment relocation team will come to your current studio flat to take survey of your flat furniture, personal effects, sporting equipment, fridge, freezer and other items to be moved. He will work out a cheap apartment removals plan suitable for you.
We know that each flat moving project is unique. So, our London flat movers will always personalize our man and van services to suit the needs our clients. So, feel free to tell us exactly what you need and ask any question you want.
The flat move team leader will be pleased to answer all your questions and clear all your doubts and confusions during the planning stage. We will assign a studio flat move manager to you. Our apartment movers will work with you and will always be at your beck and call in case you have any issue throughout the move. If you have any particular need, you should let your move manager know.
1 bedroom and 2 bedroom flat moving
Knowing fully well that the removal needs of our clients are not the same, we have developed different flat removal packages to accommodate everybody.
If you want to sit back and watch us do everything for you include cleaning, packing boxes provision, furniture delivery and unpacking, we can do that for you. If you want only the removal of your articles, we can also do that for you.
If you have antiques, valuable items like pianos and heavy furniture, you don't have to worry as we have all it takes to remove such items safely.
Whether you are living in high rise buildings or just downstairs apartment, there is no cause for alarm. We provide 1st floor, 2nd floor and 3rd floor flat removals even if the lift is not present. We provide 1 bedroom and 2 bedroom apartment removals. If you are moving house we can help too.
If you want to do the packing of your items by yourself as a means of cutting cost, we have no problem with that. You can check our packing tips for moving 1 bedroom flat or 2 bedroom apartment be it ground, first, second, third or fourth floor. We will only require you to pack them very well and with quality packing materials. The quality of the packing materials and boxes you use will determine to a certain extent how secure your items will be. This is why we insist that you make use of good ones. If you are not sure of what packing materials you will need, let us know and we will help you out. We do provide quality packing boxes and other packing materials to our clients at affordable prices. But if we are doing the packing for you, they will be made available free of charge to you.
As a professional Epsom house movers we offer a comprehensive flat removal services as well as other related services. If you need to keep your belongings into storage whether for short term or long term, you can make use of our quality storage services. We have well-built and equipped storage facility. Our storage facility is built for the storage of different kinds of items. We have different kinds of storage units for the storage of different types of items. If you want to store items that are sensitive to temperature, we can store that for you because we have storage units that have temperature controlled features.
Having been in the apartment removals business for years, we have been able to establish numerous network branches across the UK even though our major base is in London. So, no matter where you are living in the UK, you can make use of our quality removal service. We do offer international flat shipping services across Europe and other continents. In case you are moving your apartment or studio flat furniture out of the country or you want to ship anything outside the country, our international flat shipping companies are available for you to hire.
Reasons why you should hire flat movers
Proven records: We have accomplished many flat moves successfully. So, we can provide you with referrals. You can also read our reviews if that will make you to believe in our ability to deliver quality 1 bedroom or 2 bedroom apartment removals service. Go through our records, you will not see any history of delay or court case with our clients.
Flexible studio bedsit removal packages in London: We are flexible with our services. This is why we customize our flat moving services to suit the needs of our clients.
UK flat movers can always change our service to suit our clients and even to our dissatisfaction. So, let us know what you want and we will work out a plan suitable for you. We can advice you on how to declutter your home before the flat removals.
We offer varieties of services: Our site should be your first and last port of call if you want more than removal services. We provide wide range of services of related to removal for example skip hire services.
Strong support: We have one of the best customer care units. All your queries will be answered within the shortest time by our London flat moving experts. Feel free to contact our support which is always available.
Many years of experience in moving bedsits
We have been into the London bedsit removals industry for years and have acquired experience, equipment and human workforce.
Affordable and reliable services: Cheap flat movers offer services at a competitive moving costs. Besides, our services are reliable. Other London flat removal companies might have told you the same. But only a few of them works with shippers that are registered members of professional associations. But we work with carriers and shippers that are registered with popular professional associations in the UK.
The above are some of the reasons why you should hire us. We are not just claiming or boasting of quality flat relocation services, we provide quality services to our clients. Contact us today for your apartment removal services.