A few ideas on how to furnish a small studio, bedsit, apartment or 1 bedroom flat
Living in a small apartment or 1 bedroom flat can somewhat be challenging given its limited space.
The more properties you acquire, the more difficult it becomes for you to store them and keep your home arranged.
But given the high cost of housing in most cities, many people start life in small apartments or bedsits.
Whether you are starting life in a small apartment or you are just relocating to a small flat owing to financial difficulty, there are some tips that you can apply to help you to furnish a small bedsit easily. Here are some small apartments furnishing tips to apply.
Invest in light fixtures
You might have heard about seasonal affective disorder, normally abbreviated as SAD. It usually occurs as a result of insufficient light in a small living environment. SAD can bring about mood change. Most small apartments do not have enough light as a result of limited space. But you should make effort to invest in light fixtures.
Put enough electric bulbs. You should also try to allow enough sunlight in the house. In order to allow enough sunlight to enter the home, you should not hang curtains made from heavy materials. Sheers or light and bright coloured curtains are preferable. Such curtains will allow enough sunlight to enter the room even when they are closed.
But you should also make effort to keep the windows and curtain open. In this way, enough sunlight will enter into the house and you will avoid SAD. Investing in lighting fixtures to furnish your small flat will reflect positively on your health.
Define the traffic flow of your small flat
There is the tendency for some people to overlook the traffic flow in their home when they are decorating it. But it is very important and should not be overlooked. Take a look at your small apartment, and make a rough drawing of your rooms. Now mark where you will place each of your properties and gadgets. Determine if there will be obstruction of movement from the drawing you have. Get everything arranged in the drawing and if you are satisfied with the traffic flow or passages you have in the drawing, you can now start to translate them into reality. Without the planning process you may end up with furniture taking too much room in your apartment.
small sofas for apartments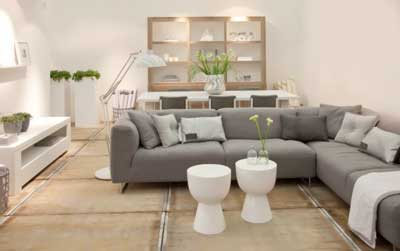 There are many companies in the UK that specialize in designing small furniture. In fact more appropriate word to use is custom made or purpose build furniture.
If you have any cavities, bends or curves in your apartment you can measure it up and order furniture to fit it in.
Removals London can help you with picking up and delivering the furniture to your home. We can even help you with assembling it.
Getting specially designed small sofas or other furniture for your 1 bedroom flat or apartment will allow you to utilize the space you have to maximum.
Furniture placement
Given that you don't have enough space in your bedsit, you have to maximize the available space. Now that you have determined the traffic flow of your home, the next thing is to place the furniture where they belong. Small Furniture for apartments placement is very important and thus it has to be properly done.
Don't place furniture in such a manner that they will result in clumsy detours. A veritable means of maximizing the available space in your small flat is to group furniture according to their functions and then place furniture with similar functions together. For example, chair, table and lamp can be kept in one place because they are used for reading.
If you need we can help you with your apartment removals too.
How to furnish a small apartment need to be antedated with proper planning. When buying your furniture for a small flat, you can buy multi-purpose furniture. For example, you can use the same table for reading as your dining table; and to achieve this result, you should consider buying an expandable table.
Drop leaf table is a typical example of such a table. You can extend the length so that more people will be accommodated. You can also reduce the size to serve only two people. Sofa is another example of multi-purpose furniture. You can buy it and use it as both seat and bed. In other words, the major points to consider when buying your furniture for a small apartment are their functionality, volume and flexibility. You may also choose appropriate wooden windows to add some avant-garde style to your small apartment.
Give out items you don't need
Most people get their home congested by keeping items they rarely use or even items that they don't use at all. Take a look at your closet and wardrobe and take note of those items that you don't use. You can either sell them as fairly used items or give them out to people that need them. If you think you will need them in the future, then rent a storage facility and keep them there rather than congesting your home with unwanted items. Buy and keep things according to their priorities. Don't over stuff your living space with furniture.
Make use of the wall for storage purpose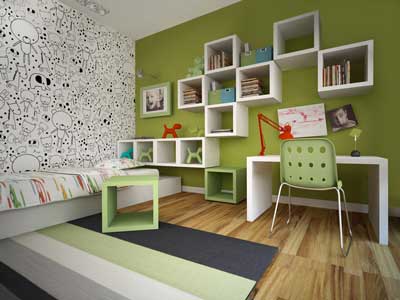 Nowadays, the walls can be used for storage purposes. There are a number of articles of furniture meant for storage purposes that are mounted on the wall in order to conserve space.
You should consider buying such items in order to create more space on the floor. Follow this good idea and tip to have your small apartment furnished in a premeditated manner.
Have you just purchased some household goods? We offer furniture delivery.
Don't overlook your comfort
Our home is our living abode and place of rest and therefore we should make it as much comfortable as possible. Use wall arts and prints to enhance the beauty of your apartment interior.
Give a personal touch to your bedsit with these wall arts. There are different types of wall arts in the market for furnishing a small apartments.
You can also make a collage by yourself. However, remember to buy those that match with you entire home decor. Cover the floor with nice rug and comfortable chair. Check out more tips on moving house.